When I first started playing with paintstiks (more years ago than I care to admit!), almost all of the colors were sold in full size sticks. There were a few sets of mini paintstiks in the matte colors, but nothing in my favorite iridescent colors. How times have changed!
It took a lot of arm twisting, but I convinced the paint company to make mini paintstiks in iridescent colors, and you have been snapping them up like candy ever since. Good things really do come in small packages!
I'll be the first to admit that I really like the full-size sticks, but when it comes to travel — or if I'm tight for storage space, the minis are a perfect solution. Big enough to contain lots of paint, small enough to fit a large collection in a small box. As Goldilocks would say, they are "just right!"
Stock Up Today — Save 20%!
If you want to round out your collection of paintstik colors, or simply want a set that's easier to travel with, I've got a great deal for you! We've marked all of our mini paintstiks down at least 20% for the next week.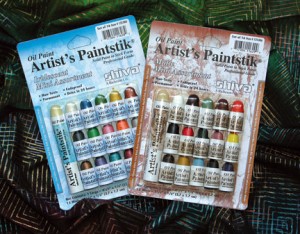 Our sale includes every set of 3 mini paintstiks — and those gorgeous mini assortments that are so popular. As a matter of fact, between the Matte and Iridescent Mini Assortments, you have everything you need to travel in style. What's not to love about that? Here are the links you need to round our your mini collection:
Click here to find your favorite Matte Mini Colors

Click here to find your favorite Iridescent Mini Colors
As always, our special offers don't last forever. Actually, they don't last very long at all! Stock up today, save at least 20% — and get your paintstik minis while the price is "just right!"
[Prices good through Wednesday, June 6. Our offices will be closed on Thursday, May 31 and Friday June 1. We will ship orders out on Monday.]
A Quick Quilt Market Recap
Quilt Market is one my favorite events each year. It's the best opportunity I have to meet with the shop owners and teachers who work with our products, and it's one of the few times each year that I put on my apron, roll up my sleeves, and teach a couple of classes.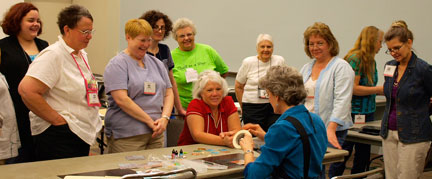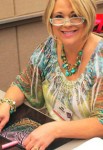 In Kansas City, I had a wonderful time with two groups. In the first, we played with 4 techniques from Rubbing Plate Roundup. We made inkpad rubbings, paintstik rubbings, transfer crayon rubbings and topped the day off with metal embossing. Fun!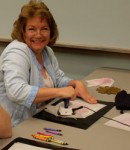 The second class was all about paintstiks. I took my students on a whirlwind tour through a bunch of techniques described in Paintstiks on Fabric — along with a few new things that I've learned along the way — and then we sat down and made samples for demonstrations in our stores and classes.
Of course, most of my time at market is spent in our booth in the Exhibit Hall. I spend most of my time chatting with customers and doing demonstrations, but definitely find time to connect with friends and plan for upcoming events.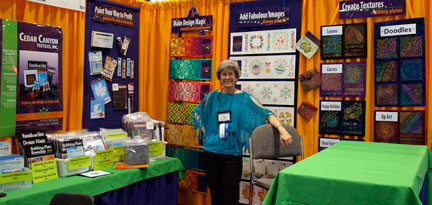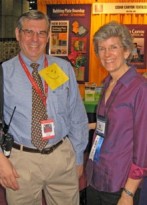 I had time to chat with Kim DeCoste, the Education Manager for Quilts, Inc. about a lecture I'm planning for Fall Quilt Market. In case you're wondering about the yellow "smiley" that landed on Kim — that's a visit from one adventurous bit of fabric who travels with Joan Ford at Hummingbird Highway. You can follow Joan's lovely newsletter to keep up with Smiley's adventures.
That's all for this week. Next week, I will share some of the beautiful pictures that you've been sending me over the past month or so. You've been busy — and I love to see what you're up to — and I truly appreciate your willingness to share your projects with our Community.
See you next week!