When I was a kid, I just loved Jello. I loved the colors and the flavors;  and of course, I loved the squishy texture. What kid doesn't? Well, I still love to play with gelatin – in the studio – not at the dinner table.
If you're not familiar with Gelatin Prints, you may think I've taken leave of my senses; but seriously, gelatin really is a wonderful, squishy fabric art tool. Who knew? (I posted the instructions for making a gelatin printing plate last week. You can go back and read the article on the Blog.)
Over the past few days, I took time to make some gelatin prints. I used my carved linoleum blocks to create the patterns in the paint. To do these experiments yourself, you need a few simple tools:
A gelatin plate
Some fabric
Fabric paint or liquid acrylic paint (must have some body – runny paints don't work well)
A brayer or foam brush to apply paint to the gel plate and/or your lino block
Some carved linoleum blocks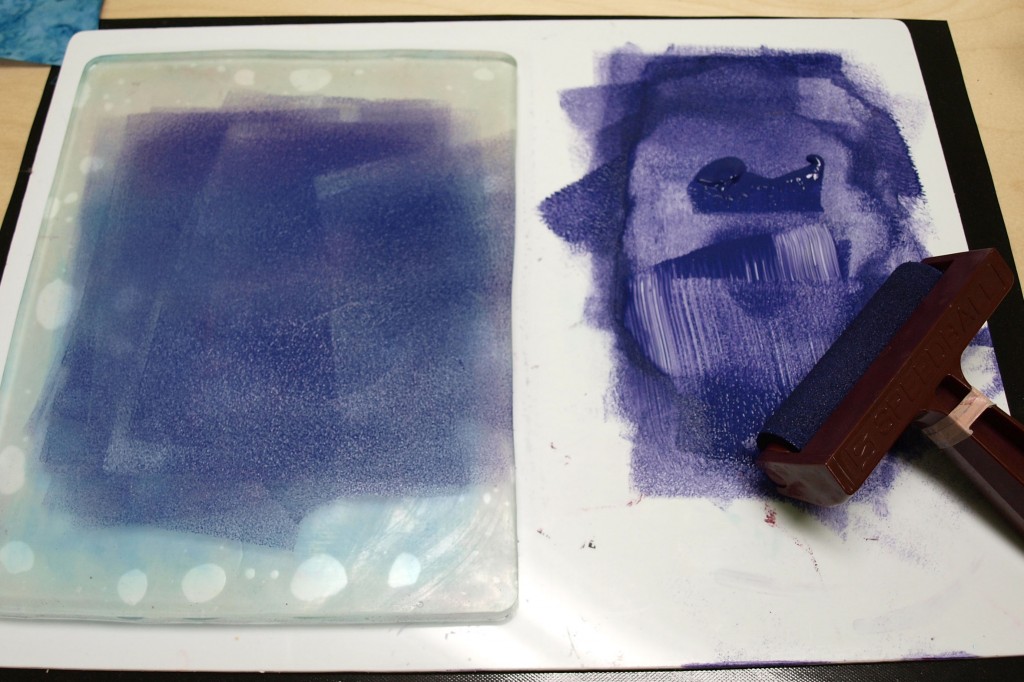 My setup is pretty simple. I put a Grip-n-Grip mat on my table to keep my palette in place. I put my gelatin pad on one side of the palette and used the other side for paint.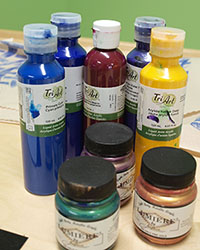 I have several gel pads from Gelli Arts, so I used the 8×10 plate rather than making one from scratch. The Gelli pads are made from mineral oil and if I put them directly on my wood work surface, they can leave a stain. I have a really cool permanent palette from the people that make TriArt Acrylic Paints, so I put the pad on my palette rather than my wood work station.
To do my experiments, I pulled out some Lumiere paints from Jacquard, and some TriArt Liquid Acrylics.
How To Make A Gelatin Print
If you've never made gelatin prints, give it a try. When I first heard about them, I thought to myself "Seriously? Gelatin Prints?" But I put my disbelief aside, made up a plate, and had a ton of fun playing with paint, making a bit of a mess, and got a good case of the giggles. Such fun!
Here are the basic steps:
1. Put some paint on the gel pad
2. Create a texture with some type of tool
3. Lay a piece of fabric over the gel pad
4. Squish! (Press the fabric onto the pad with your hands)
5. Remove the fabric
6. Say "ooh, ahh" or "how cool is that!"
7. Spritz some water onto the plate and wipe off the excess paint
8. Rinse and repeat…
Think you can do that? Yup. I thought so too!
Three Print Possibilities
While you've got your tools out, there are three different images you can make.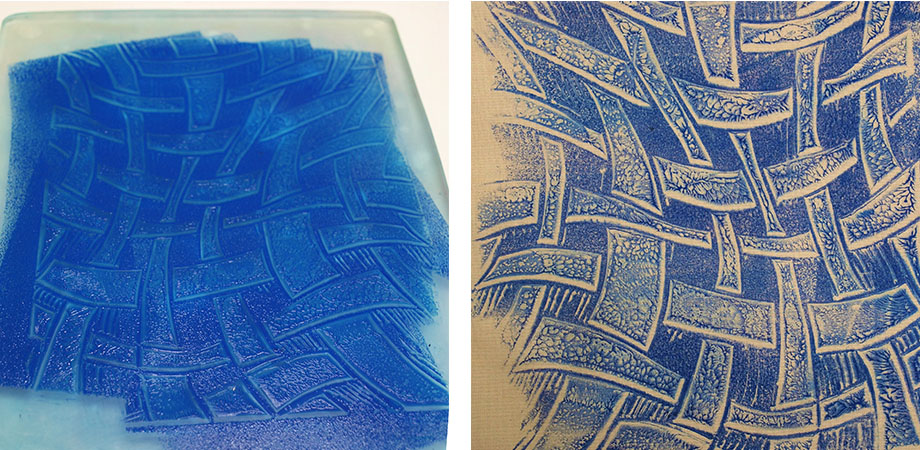 Print 1: Add some paint to the gel pad with a brayer or foam brush. Then press your lino block into the paint, press firmly, then lift the block off the gel pad. Next, lay your fabric over the gel pad, press firmly with your hands (squish!), and lift the fabric off the gel pad.
You want to have enough paint to make a print, but not so much that you have a gooey mess. When I started making gel prints, I used way too much paint (that's the gooey mess problem). Then I went too far in the other direction and didn't use enough paint. It took a little practice, but I've finally figured out the "Goldilocks" compromise and what constitutes "just right" in terms of paint. So don't give up if you don't like the first few prints you pull – just keep experimenting until you have your own Goldilocks moment.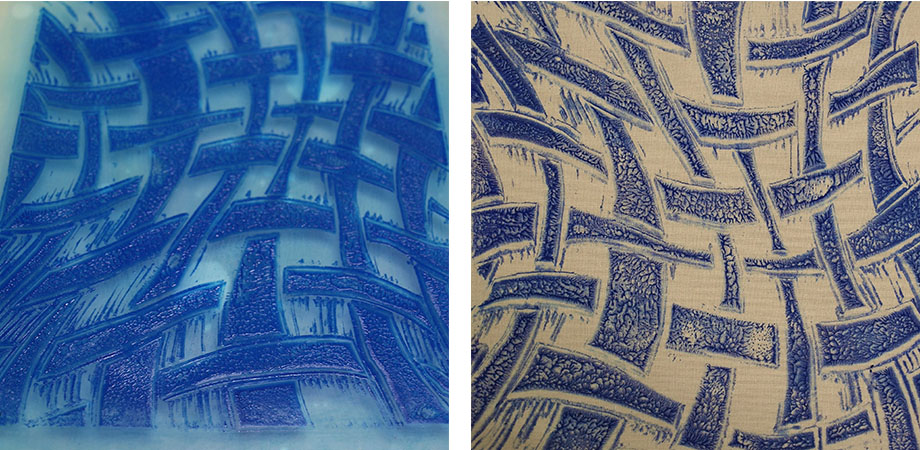 Print 2: Add some paint to the lino block with a brayer or foam brush. Press the lino block onto the gel pad to transfer the paint to the pad, then lift the block off the gel pad. Lay your fabric over the gel pad, press with your hands, and lift the fabric off the gel pad.
If you lay this print beside the first one, you'll see that you have one positive image and one negative image. It's a neat way to get two images from one carved lino block.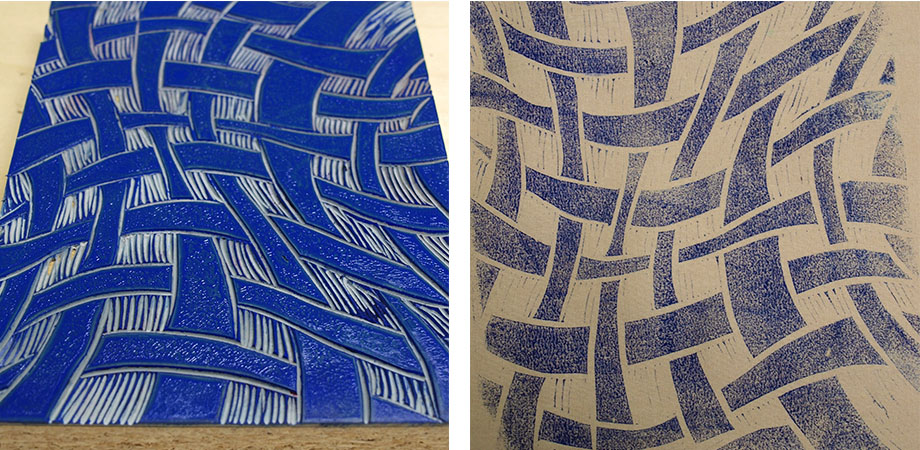 Print 3: Add some paint to the lino block with a brayer or foam brush. Lay your fabric directly on the lino block and press the fabric onto the block. Lift the fabric off the block. This yields a print very similar to print 2, but the image will be much cleaner.
If I put print 2 and print 3 next to each other, I see that print 2 is very organic, and the images is much less distinct. Perhaps it looks more hand-made. Print 3 is very clean and sharp. When you are making prints, you can decide which you like better. I can see where sometimes I might want to print directly from the block, but other times, I would prefer the look of the gelatin print.
Clean Up Immediately
Water based paints (acrylics and fabric paints) dry fast. You need to work quickly and clean your tools immediately after you finish. If you don't, you'll have permanent additions to your lino blocks – and wind up replacing your foam brushes / brayers in short order. How fast do they dry? Fast. Trust me. By the time I finished taking photos for this article, some of the paint had dried permanently on my lino block. I got most of it off, but not all of it. So the lesson here is "Don't Dawdle."
Making it Permanent
Fabric paints (Jacquard, ProFab, etc.) all have specific heat setting instructions. Follow them to the letter if you are going to wash the fabric from your experiments. I'm going to do a series of washing and heat setting experiments on the prints I made using the TriArt Acrylics. I'm curious to see what I need to do to make these paints permanent on fabric.
Your Assignment
Yes, an assignment. (What is a creative mentor for if I can't give an occasional assignment?)
1.     Make a gelatin plate (or locate your Gelli Pad if you've purchased one in your travels), pull out a bottle of paint, gather up your carved lino blocks and make a few prints. Don't worry about making masterpieces – just get into your studio space and play for a while.
2.     Send me a few photos to show me what you've been up to. Better yet, upload your photos to the Share Your Project page so we can share them with all your friends in the Cedar Canyon Community.
3.     Have fun! And I hope to hear from you soon.