Moving is not one of my favorite activities. Especially when I have lived somewhere for a long time. But I have to admit that packing (and purging) are useful activities. I discover all manner of treasures that I've totally forgotten about – especially in my studio space. When we sold our home last year, I found a little treasure tucked in a trunk with my dad's papers. It's a linoleum block that my mom carved when she was young.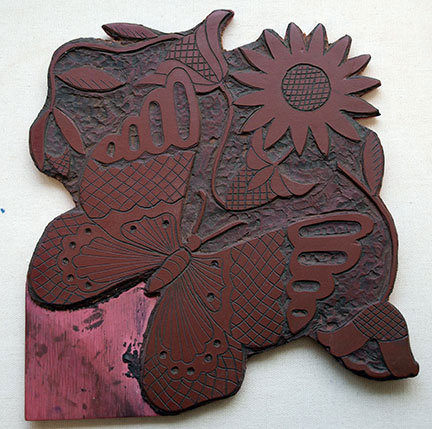 Mom was in high school in the 1940's – back when lino blocks were carved from pieces of linoleum tile. You know, the stuff that went on the kitchen floor. In case you are wondering, this piece of linoleum was your basic kitchen red. My grandfather was in the furniture business and he probably started out selling flooring, so I expect that a few loose tiles were acquired for mom's art projects.

I have to say that they don't make flooring like they used to. Between the linoleum and the backing, this piece of linoleum is a full 1/4″ thick. It's hard as a rock now, but I would expect that from something that's been sitting around for over 60 years.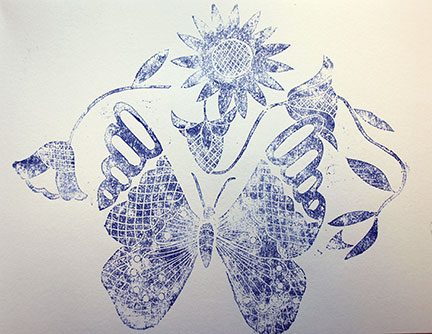 The carving on this block is really detailed, and I knew it wouldn't work for Paintstik rubbings. So I grabbed an ink pad and and made a quick print on paper. It's absolutely beautiful.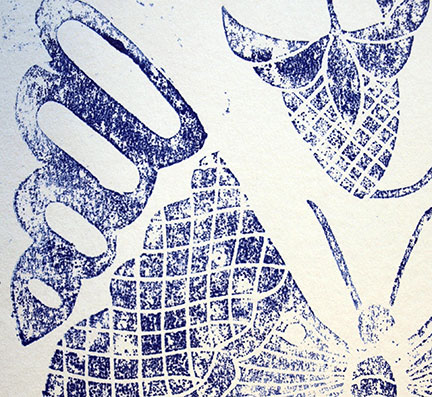 When I look closely at the block, it's clear that the backing on the linoleum must have been quite soft when she made the carving — and that she had a lot of patience. The cross-hatching lines are very smooth, and there are very few "oops" marks on the block.
I'm not sure I'll ever be able to carve a lino block as detailed as this one. Nor am I sure that I want to! But this little treasure and my mother's passion for creative expression explain a lot about the path I've chosen in life. As the old saying goes, "The apple doesn't fall far from the tree."
Did you inherit your creative energy from someone in your family? Leave a comment here on the blog. I'd love to hear about it.