A few months ago, I started thinking about printmaking. This is a topic I've wanted to explore for a number of years, and I decided that it would be an excellent winter project. The snow is not flying just yet, but my carved linoleum sheets have been whispering in my ear every time I walk through the studio.
I've been preparing for Quilt Market, which cuts into my studio play time, so I indulged my desire to do something by starting in familiar territory. I knew it would be much faster to make some paintstik rubbings than to dive into one of the other printmaking techniques that I want to explore.
For the most part, carved linoleum sheets or blocks can be treated exactly like rubbing plates. Turn them texture side up on your work table, lay fabric over the top, and then use the paintstiks directly on the fabric to transfer the image from the carved linoleum to the fabric.
[Editorial Note: I'm going to use the term 'lino blocks' generically to refer to both linoleum sheets and linoleum blocks throughout this series of articles. While they are technically different (one is mounted, one is not). I'm taking the liberty of giving them a single name.]
I'm not going to go into the details on how to make rubbings today, but I will point you to my top three resources that take the mystery out of paintstik rubbings — and help you get great results in a hurry.
First, you can view the Top Tips video over on the Resources Page.  Second, you can download the Top Tips PDF document from the Downloads page in the Community Center. Finally, the first section of Rubbing Plate Roundup contains the most complete set of information that I have ever put together about making rubbings.
Now that you have all the how-to information you need, let's take a look at the results of my experiments.
Block #1: Random Curved Lines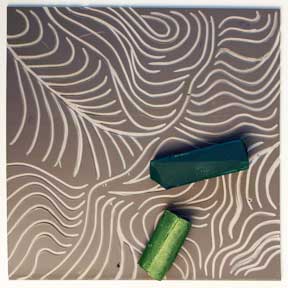 This 6×6 lino block is one of my very first test pieces. I wanted to practice making curved lines, so I simply cut a bunch of gently curved lines in different sections of the block. I found a tool in my wood-carving set that is normally used for cutting tiny details. It's nice to work with, but the lines come out very narrow. I was not sure how this would work for paintstik rubbings.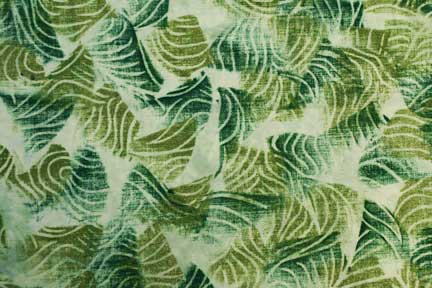 When I started making rubbings, I wasn't excited (to put it politely). I felt that the design was getting lost because the lines were too thin. Before throwing in the towel, I decided to try something different. I chose two colors of green and just made random fan-shaped splashes of color. The linear design added some nice texture to the color swatches, and I actually like the results.
In case you are wondering, I used Veridian Green (matte) and Iridescent Leaf Green. My experiment reminded me of a major difference between using matte and iridescent colors to make rubbings. Iridescent colors are very smooth as you slide them over the fabric, but matte colors have a definite drag. Both are useful, but you will notice a definite difference as you paint.
Block #2: Spirals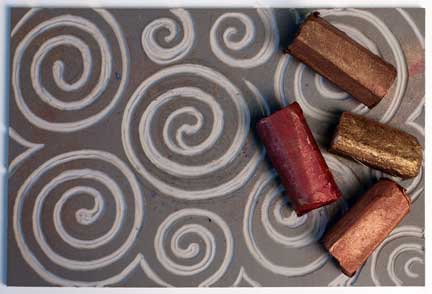 I love all kinds of spirals, so that was an obvious motif for me to play with when I was practicing my carving. I'll bet that you have favorite design motifs too! Carving up some linoleum is the perfect time to add your own personal version of these special images to your toolbox. You don't have to shop-til-you-drop in hopes of finding the perfect tool – you simply make your own!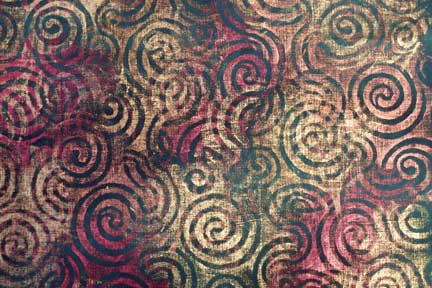 To test this carved lino block, I grabbed a dark green piece of fabric from the closet. Most of the leaves are gone from the trees outside my window, but autumn is definitely still in the air. I chose four iridescent colors (gold, copper, brown & red). I had a blast.
I love, love, love the way this little block works for paintstik rubbings. When I carved this piece of linoleum, I made much wider lines, making 2-3 cuts with the linoleum cutter and the v-shaped blade. This is definitely a keeper! I used 4×6 blocks for my practice pieces, but this is a great candidate for a larger version.
Block #3: Basketweave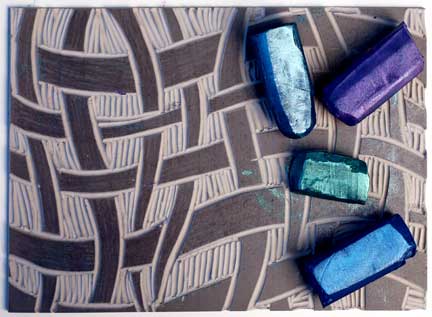 For my last test of the day, I chose my basket-weave carving. I had a lot of fun carving this block. As a fabric nut, I enjoy anything that looks woven. The trick was figuring out which lines to cut and which background areas to carve out.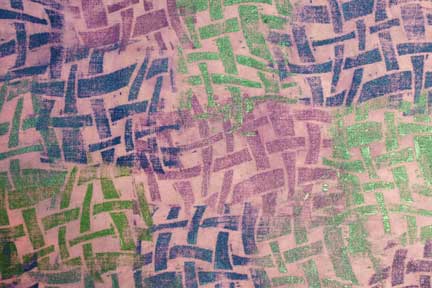 To test the design, I made an overall pattern, changing paint colors as I worked. This came out pretty busy, and I'm not sure I would use this piece of fabric exactly the way it is, but I really like the way the design prints.
The woven effect comes through loud and clear, so I consider the design to be very successful. I think this motif is going to come in really handy when we get to gelatin prints. But that's for another day…
Next week I'll share a different twist on paintstik rubbings. Then I'll need a little break after Quilt Market before we dive into other print-making techniques.