A few weeks ago, I showed you some Stencil Brush Rubbings by Linda Clark. (You can see that article by clicking here.) I was so intrigued by Linda's experiments that I sent her a list of questions — and I'm thrilled that she is willing to share with everyone. Here's the scoop on Linda's texture hunt.
Shelly
: In our phone conversation, you described a "texture hunt" around your home. Can you please relate your story of the old white curtains and the textures you found around your home?
Linda
: I wandered around the house making rubbings from various things to see how they translated in paint on fabric. I was surprised at some of the things that worked and, vice versa, some of the things that weren't as successful as I had expected.
Once I got going, I realized if I did this right, this could be a reference for future projects. So I grouped similar items in the same area on the same curtain, and labeled them after with a permanent fabric marker. I started out with one curtain, approx. 38″ x 34″. When I filled it, I grabbed another, and another.
I have always enjoyed things with textured surfaces, so had collected a few interesting objects that worked well. And since the experiment, I have collected a myriad of placemats, chargers, and architectural ornaments that looked like they would work for rubbings too.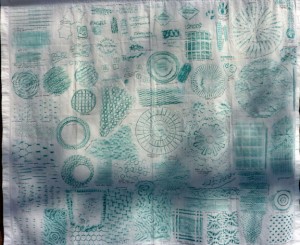 Here are two of Linda's old curtains, filled with images. On the first curtain, Linda was having great fun in her kitchen, making rubbings from the bottom of jars, the side of baskets, the bottom of depression glass plates and various kitchen utensils.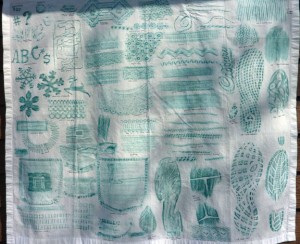 On this curtain, Linda has images from the bottom of shoes, hair accessories, jewelry, jeans pockets and lace (among lots of other interesting things).
On yet another curtain (not shown) Linda made brush rubbings from various pieces of fabric in her closet, some of her towels, knit sweaters, and more. From her photos, it seems to me that she grabbed anything and everything in sight, made a rubbing, and checked to see how it turned out!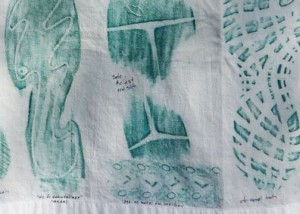 Here's the key — as Linda made the images, she took notes. She was working with old curtains, and she simply wrote on the curtains with a pen to identify each of the objects she made rubbings from.
Now, she has an excellent set of references — AND an easy way to retrieve the object if she wants to use a particular rubbing for one of her fiber art projects.
Another great tip from a reader…
And speaking of cool textures, this note came in from DeBorah in Beaverton, Oregon. She said, "One of my favorite things to do texture work from is cheap dollar store flipflops. If you check the soles, there are many options. I used them for rubber stamps till I figured out I can use some of them for rubbings, too!"
Do you collect off-beat items because of the texture? If so, I'd love to hear about it! Send me a quick e-mail — or post your comments over on our Facebook page.
Your Assignment: Take Time For A Texture Safari!
In my new role of Chief Creative Mentor, I'm giving myself permission to give you an occasional assignment. It's partly for fun, but also to get in the habit of simply making the time to do something creative.
Now that you've read about Linda's Texture Treasure Hunt, I'm challenging you to do the same! Grab a yard of muslin, one paintstik color, and one stencil brush and wander through your house, looking for anything remotely textured.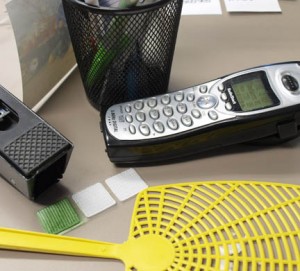 From where I'm sitting at my desk, I can see a cool pattern on the fly swatter hanging under my work table, my checkbook cover, a wire mesh pencil holder, the hook side of a piece of Velcro, a grid on the bottom of my stapler, the keypad on my calculator (and my telephone) and the sides of my wire storage baskets. And I haven't even moved!
If you're up for this challenge — and I just know you are! — I'd love to see a quick picture of your results. Just hang your fabric in a well lighted area, take a quick picture, and send it by e-mail — or post it on Facebook.
Oh — before I forget — don't forget to take notes! Take a cue from Linda and write directly on your fabric. This will be hugely helpful if you ever want to track down one of the textures for a project. Enjoy!
Got Textures? Make Treasures!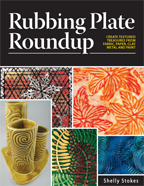 And now that you've hunted down a bazillion textures, don't forget that there are lots of things besides paintstik rubbings that you can do with them.
If you're short of ideas, pick up a copy of Rubbing Plate Roundup from your favorite local retailer, or place your order in our Online Store. (I'm not putting a link in right here as it may change before you get the newsletter… to get to the store, click over to our Home Page and use the link in the top-right corner.