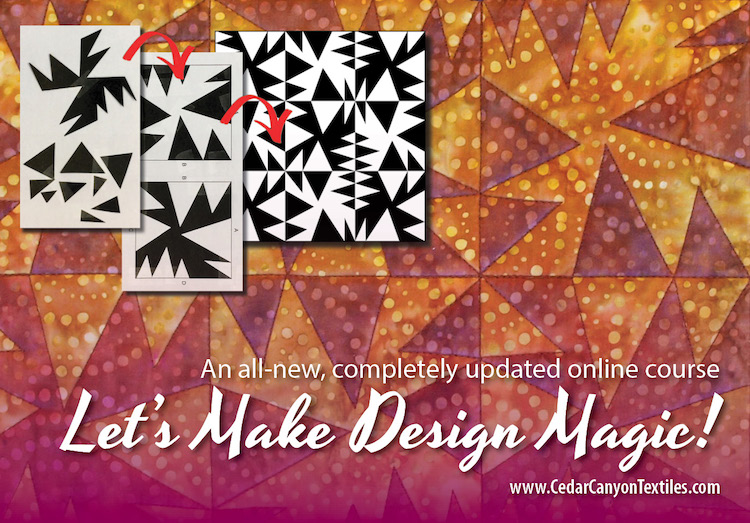 Are you ready for a new fabric art adventure? Are you ready to banish the "I can't find the right fabric" blues? Then step right up, and let's make some Design Magic!
Before we jump into any of the details, let me say this: The Design Magic course will turn you into a designer – and a creator of your own custom fabric – without any special technical know how. Seriously!
If you can cut shapes from paper, handle a roll of tape and make copies, you can create designs and stencils. If you can handle a stencil brush and a semi-solid paint, you can paint custom fabric. (There will be bonus material for Silhouette cutting machine folks, but those high-tech helpers are strictly optional!)
Design Magic begins February 6th
Here's what we'll be doing in the Design Magic course that begins in a few short weeks:
Module 1: Create Your First Designs
With Design Magic, the only way to get started is… to get started! We'll start with simple designs while we get the hang of the process. Our first lesson will cover:
Cutting designs from a square of black (dark) paper.
Capturing your designs on a Design Page.
Turning your designs into a Repeating Pattern.
Design Prompts: Designs 1-5
Module 2: Balance, Bonus Shape & Refine Your Designs
Now that you have the hang of the basic process, we'll take a look at additional design considerations. Specifically, we will look at:
Balance: Is there a similar "weight" of black and white?
Creating Bonus Shapes in the corners of the square
A doodling process to help you Generate More Ideas
Organizing your designs with a Studio Journal
Design Prompts: Designs 6-10
Module 3: Turn Your Designs Into Stencils
It's time to start turning a few of our designs into Stencils! We'll cover both the original Design Magic process with freezer paper stencils – and some additional options for those of you with Silhouette cutting machines.
Cutting Freezer Paper Stencils (by hand)
Cutting Renegade Stencils (with a cutting machine)
Special Tips for working with Freezer Paper
Design Prompts: Designs 11-15
Module 4: Add Your Designs to Fabric
With stencils in hand, it's time to add your designs to fabric. (Finally! We get to play with color!) Shiva Artist's Paintstiks will be our tool of choice, as they work well with Freezer Paper stencils. In this module, we will:
Prepare fabric, Paintstiks and stencils
Paint designs on fabric with Shiva Artist's Paintstiks
NEW! Experiment with Soy Wax Paste and Liquid Paint
Make the images Permanent with proper heat setting
Design Prompts: Designs 16-20
Module 5: Break the Rules with Renegade Stencils
Module 5 is specifically for those of you with a Silhouette Cameo or a similar cutting machine. While these machines are far from necessary, they do open the doors to breaking a bunch of rules – and detailed designs that are too difficult to cut by hand.
Harness the power of Silhouette Studio
Ignore that "no holes" rule whenever you want
Add "fussy" details to your heart's content
Scale your designs up or down – it's easy in software
Design Prompts: Designs 21-25
Module 6: Relax – It's Wabi-Sabi Time
Do you ever feel like your designs are a little "too" perfect? Do you yearn for your fabric to look a little more "hand made?" More like a wax-print or a batik instead of a print? In our final module we'll explore the possibilities for adding a healthy dose of "imperfection" to the Design Magic process.
Embrace Wabi-Sabi and the Gift of Imperfection
Delight in creating intentionally imperfect stencils
Enjoy the freedom of imperfect painting
Design Prompts: Designs 26-30
Register for Design Magic today!
There's much too much to tell you about the Design Magic course in a short article, so I'll send you over to the course information page for all the details.
If you have questions about how the Online Courses work here at Cedar Canyon, please click over to this article on the blog.
Your Turn
Got a question or comment about Design Magic? Pop them into a comment below. I'll answer as quickly as I can.