Every once in a while, I find messages in my inbox that fill my day with happiness. Last Thursday was definitely one of those days. I was trying to clear through my inbox to get to my projects for the day, but there were three messages that grabbed my attention. The first two messages were related to the Gratitude Folders tutorial I posted some time ago.
First from Jackie:
Yesterday I had a play-day with five ladies from my calligraphy guild. We decorated fabric using paint sticks and rubbing plates to make gratitude folders for our committee binders. We made the gussets out of canvas to make them stronger and to be able to write "Edmonton Calligraphic Society" on them.
Thank you for your Gratitude Folder instructions. I also made a larger one to hold my practise pad.
Jackie in Edmonton, Alberta
I am always thrilled when community members like you send me a note to tell me about your creative adventures, especially when you are inspired to make something from one of my blog posts. That's when the time and effort I put into writing really feels like it pays off.
I dashed a note off to Jackie to see if she had a couple of photos to share and went back to slogging through the e-mail. A few minutes later, I got to the second message. This one from Jeanine.
One of your students and a member of our Edmonton Calligraphic Society, Jackie Doll, shared the idea of the fabric folders with us. We decided that they were so great that we asked her to help us make one for each committee chair and member of our executive [board].
Jackie found some of her quilting stash and walked us through the decoration and embellishment of the fabrics. We wanted to honour the contributions of our volunteers and give them a nifty way of keeping track of their planning binder and all the pertinent paperwork that they gather at our monthly meetings.
Much to our surprise Jackie showed us the direction sheet and I could not believe my eyes when I saw they were called Gratitude Folders. We are indeed grateful for Jackie. Her kind and generous nature is an inspiration to all of us. I am certain that our volunteers will be thrilled to receive and use these folders.
Wow. What a lovely story. Better yet, Jackie came through with some photos for us and some additional notes on their project.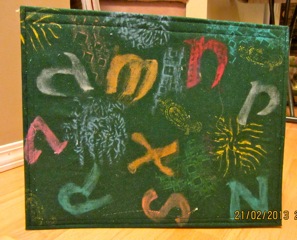 Shelly, here are the pictures of the Gratitude folders we made for our calligraphy guild. Our president was thrilled to find out the folders were called Gratitude folders because she wanted something for the committee heads to put their binders in and she wanted something to thank them.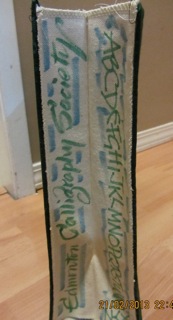 We used Shiva Paintsticks and rubbing plates to decorate the fabric. I made the letters out of fun foam & did rubbings with them. A group of ladies from our guild got together twice to decorate the fabric. We did fifteen folders.
We had a great time with the paintsticks and rubbing plates. We used canvas for the gussets to make them stronger. The writing was done with Copic and Sharpie markers. We made them 15″x12″.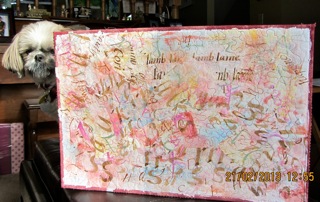 This picture is a folder I made for my calligraphy practise sheets. It's 18″x12″. I glued some old practise sheets and stippled over them with my sewing machine.
Jackie Doll in Edmonton, Alberta, Canada
Cheers to Jackie and her friends from the Edmonton Calligraphic Society for creating these lovely gifts for their board members and volunteers. I hope they get great use from their folders, and feel the gratitude of their members each time they use them.
The final message that tugged at me on Thursday was a newsletter from my friend Joan at Hummingbird Highway. In her newsletter, Joan passed along a link to a video that had been shared by Morna McEver, one of our mutual friends. Fitting with the theme for the day, the film clip is titled Gratitude.
Personally, I think I should watch this each and every morning to keep my priorities straight. Enjoy.
(Click on picture below, video will appear after in a new tab on your browser, and after a brief advertisement.)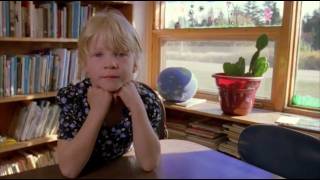 I'd love to hear what you are grateful for, and how you express your gratitude. Feel free to leave a comment below, or go to our Facebook page.