by Shelly Stokes, Founder and Creative Mentor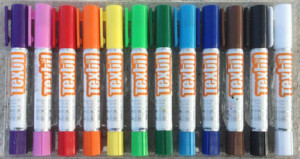 Last week, I told you about the cool, new PlayColor paints that have just become available in the United States. PlayColor paints are tempera paint in a stick form, making them a water-based paint. You can read my initial review by clicking over to New PlayColor Paints Are Here!
Today, I want to talk about stenciling with these lovely new paints. But rather than telling you "thou shalt do it this way," I want to invite you to experiment with the PlayColor paints and see how they work for you.
You'll need a couple of things
PlayColor paints
stencil brushes
piece of white/light/muslin fabric
piece of print fabric
stencil
Here are a series of questions to think about as you stencil with PlayColor paints:
What do the colors look like on fabric (or paper)?
There is no better way to answer this question than to paint out the colors one after another. As you work through the colors, ask yourself:
Do all the colors act the same?
Are some wetter or dryer than others?
Are some more opaque or transparent?
Do I need a separate brush for each color?
Is there an easy way to clean most of the paint off when I switch colors?
Tip: Keep a damp washcloth or towel handy (or some wet wipes). You can remove a lot of color from your stencil brush by "brushing" back and forth on the damp towel.
To take this one step further, do the same on a piece of black fabric to see how the colors look on a dark background.
How much paint does it take to get a clean image?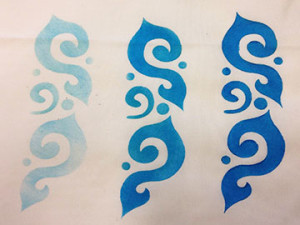 PlayColor paints are "wetter" than Artist's Paintstiks. That makes sense — they are a water-based paint. Do a quick experiment to answer the "how much" questions:
How little do I need to make a really sheer image?
How much to make a nice clean image?
How much paint can I add to my fabric before it starts seeping under the stencil.
And as you consider the question of "how much paint," think about the options for loading paint onto your brush:
Do I need to apply the paint to a palette first and then load my brush?
Can I load my brush directly from the paint stick without making a mess?
What's the easiest way for me to blend colors?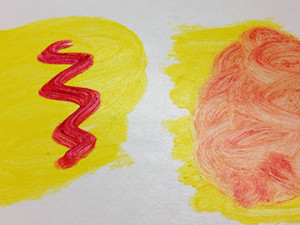 Mixing colors can be done on a palette surface (think freezer paper) or directly on the fabric. Which one works best for you?
To mix on a palette, lay down one color, then add a second, blend with a brush and then apply the paint to your fabric.
To mix on the fabric, paint one color first, then gently blend the second color over the top.
How can I shade from color to color?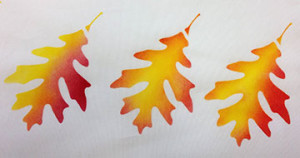 This is intertwined with the previous question, but a series of tests is in order. Paint a series of images, using different blending techniques:
Blend from one side of the image to the other.
Change colors from the inside of the image to the outside.
Try a combination of both.
What size brush works best for each case? Do you need a smaller or larger brush?
How does this work on printed backgrounds?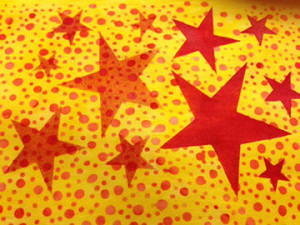 Painting images on print backgrounds is great fun! But it also opens up more questions. As you stencil images on print, ask yourself:
Do I want my painted image to be solid, blocking out the print?
Do I want to let the print show though my paint?
How much (or how little) paint will make that work?
Will it work with the color I want to use? (Remember that some colors are more translucent than others.)
Why all this playing around?
Yes, it's tempting to jump right into a project. But if you can give yourself just an hour or two to run through a series of experiments, you will be so much happier in the long run. You can get through all the "oops" stuff as you experiment and be ready for smooth sailing when you start your big project.
Do you have a strategy for testing new tools, colors or supplies? Leave a comment. I'd love to hear what you are doing.