A couple of weeks ago, I received the most wonderful letter in the mail. It was a note from artist and teacher Lauren Vlcek (pronounced vel-check), from Colorado Springs. Her letter was accompanied by photographs of two of her journal covers with amazing faces. Here is a paragraph from her letter and a couple of photos of her journal covers.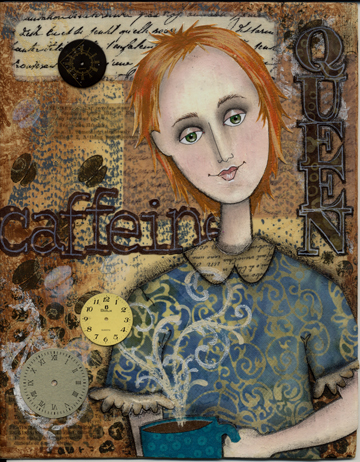 I have been enjoying your Paintstiks tremendously! I love the slogan, "What will you do with Paintstiks today?" In answer to that question… I have been painting women's faces for my art journals with them. I am so happy with the results. All of my artist friends who have seen what I have been doing ask me to teach them how I do it. the process is so simple and we have been having so much fun, I thought I would write to you and share what I have been doing with your product. I have included a couple of samples and hope you enjoy them.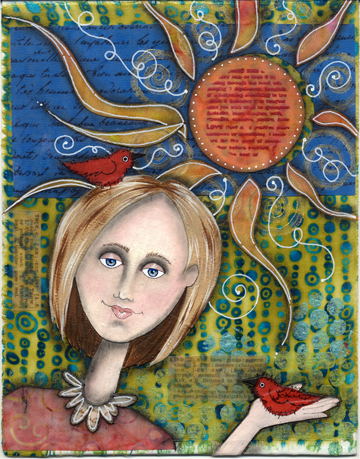 Needless to say, I promptly contacted Lauren – I wanted to know more about how she was making these fabulous faces. They were so enchanting! I was just delighted when Lauren offered to send more photos and was willing to share them with all of us on the blog. Here are a two close-up images of more faces.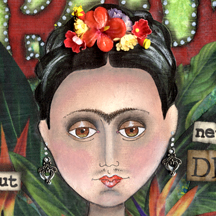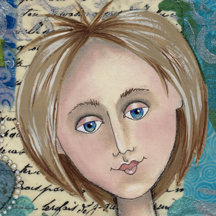 Lauren was kind enough to share some information about her painting process. She starts with muslin and applies two coats of white gesso. Once that is dry, she draws a faint outline of the head and neck with a pencil and sprays the fabric with a workable fixative so the pencil lines don't smudge.
Next, Lauren fills the outlined area with Antique White paintstik color, smoothing with her fingers or a brush. (Finger paints, anyone?) She uses Beige paintstik to add shadows around the outer edges, and for the eyes, nose and chin, then adds some "blush" with Dusty Rose.
Once the face has color (but no details), she allows the paint to dry for 24 hours and sprays it again with fixative. She then draws the feature outlines with a micron pen. She applies green, blue, or brown paintstik color for eyes, and Mauve for the lips with a small brush.  (But I'll bet that Frida's lips are from one of the Red colors!). Once again, she allows the faces to dry overnight and then adds the finishing details to the eyes and lips. After one final coat of fixative, she adds the hair with acrylic paints.
Lauren teaches various classes in the Colorado Springs area, including one on her lovely faces. She'll be teaching this class at the 2010 Textile Evolution Art Conferences. (You can visit www.TextileEvolution.com for more details — the 2010 class schedule will be posted in mid-September). Lauren has offered to write up a tutorial on her faces for the blog — so stay tuned. (If you want to get notices when new blog entries go up, you can subscribe to our RSS feed on the top-right corner of the blog.)
Well, that's what Lauren's up to… what do YOU do with paintstiks? If you would like to share your paintstik adventures here on the blog, please send us a message (or a real letter!). You'll find our address on the Contact page on our site.
Have a wonderful day, and happy painting!