It's Monday, so it must be time for a little magic. Last week I shared Kathy Tanner's elephants. If you missed it, you can read about them here. Today, I'd like to share Lauren Parker's birds. I have to admit that I'm always thrilled when someone sends in photos of their Design Magic creations – and I'm sure you'll agree that Lauren's birds are just delightful.
To start, I need to explain that Lauren is a TART. (That's a compliment, not a smart remark!) TART is short for Textile ARTist, and TARTs are a group of people exploring various textile art techniques with 4 creative ladies at In Good Company.
Lauren and the rest of the TARTs got their Positive/Negative stenciling kits late last fall. The lesson for that month was based on my Design Magic method for creating repeating patterns with positive and negative shapes. Lauren created a pair of stencils in the shape of a bird and turned it into a lovely runner. Here is a photo of the runner.

I asked Lauren how she created her stencils, and she was kind enough to share her inspiration.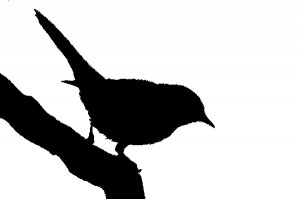 Lauren started with an image search on Google using the phrase "bird silhouette." She located this image, cropped it in Photoshop, and then changed the shape of the branch to suit her taste. She traced the image onto freezer paper, one facing right and one facing left. Just like we do for Design Magic, she cut out the bird/branch on one stencil and cut out the background of the other. Magic!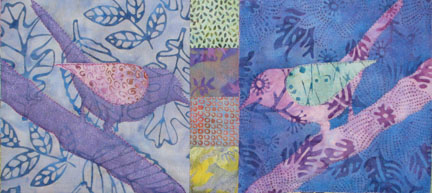 Here are a pair of Lauren's bird blocks. In the block on the left, she painted the bird and branch. In the block on the right, she painted the background. I love the fact that she applied the paint in a sheer enough layer that the images on the background fabric are still visible. The appliqué wings are a great crowning touch!
Lauren lined her birds up for a runner and separated them with patchwork sashing. This gives a totally different look than stenciling the images in a repeating pattern. However, you'll notice that her design touches all 4 sides of the block. I'll bet it would make a great repeating pattern if it were stenciled out in a Design Magic sequence.
That's it for Magic Monday – happy painting!