Hey, paintstik fans! Would you even begin to believe that you can make an incredible star quilt without spending ages finding "just the right fabric" and then tons of time doing complicated piecing? You'll be thrilled to know that Laura Murray has developed a very simple process that allows you to make complex stars as easy as "Paint, Cut, Fuse!" OK, OK — there are a few more steps in the process — but believe me, this is simpler than it looks. Yes, you really can do this!
Laura has just published a book called StarBuilder Inspirations to take you through the process step by step. Her book is not only filled with hundreds of gorgeous photos, but chock full of detailed explanations and a huge gallery to get you started.  I asked Laura to share the story behind the book.
Laura's Story
As a designer, my process is similar to walking through the woods for the first time.  I need to take one step before I can see where I want the next step to land, and I don't know exactly where I'm going to end up until I get there.   I love the journey, but I want my discoveries to happen quickly.   It's the part about "happen quickly" , combined with my fondness for paintstiks that resulted in my vision of  a no-sew approach to design using unmounted stamps, paintstiks and fusible web.  I designed uniquely shaped stamps to use as texture plates for making paintstik rubbings and launched the StarBuilder line last year.  I recently completed the StarBuilder Inspirations book and introduced StarBuilder2 to round out the line. [StarBuilder and StarBuilder2 are the unmounted stamps used to make the star shapes.]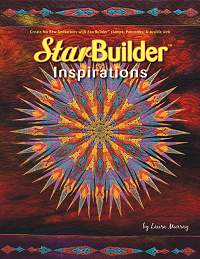 As a self publisher, I did most of the photography with some help from Shelly,  who lent a hand both literally and figuratively  (she was my "hand model" in the technique shots, since she has more attractive hands than mine).   Her earlier blog entry called "what we do for our photos" provides a behind the scene look at what it takes to make a good image.  Thankfully, Photoshop provides excellent tools to overcome small imperfections!
It would have taken me many years to produce designs featured in the book using traditional methods of drafting, and precision piecing.   I can happily say my process cut the time down to 9 months, while juggling the demands of a full time business, and traveling 40% of the time. It also helped considerably that my husband, Jim, did most of the painting.  He made batches of shapes in various color combinations, which I began thinking of as my " fabric Legos".  I've made well over a hundred designs, with endless possibilities just around the corner.   Here's a quick tour of how it works.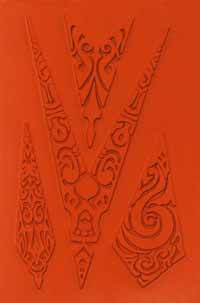 The Basic StarBuilder Process
No seam allowances and no sewing are required to construct the StarBuilder designs. The unique shapes of the StarBuilders are the basis for Paintstik rubbings, which then produce unique fabric pieces. Fusible appliqué techniques then provide quick and easy arrangement and placement, and the process ends with the final fusing.
Step 1: Paint the shapes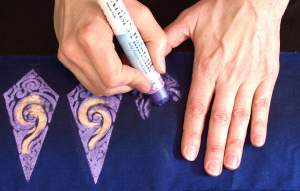 Place stamps underneath the fabric, and paint the fabric with iridescent paintstiks. I like the way the iridescent colors make my stars "glow," but will use some of the matte colors to get specific colors not available in the iridescent line.
Step 2: Apply fusible web
Apply a fusible to the back of the fabric, once you have made sufficient multiples of your shapes. I prefer Steam-a-Seam 2 lite because it has a pressure sensitive coating on both sides allowing for a temporary hold until fused down permanently with an iron.
Step 3: Cut shapes out
Cut out the shapes, but do not remove the release paper until ready for placement.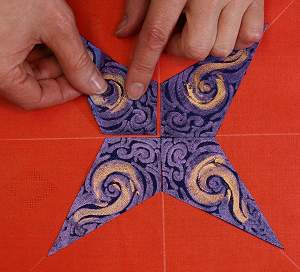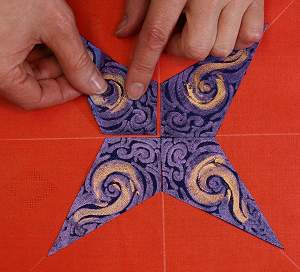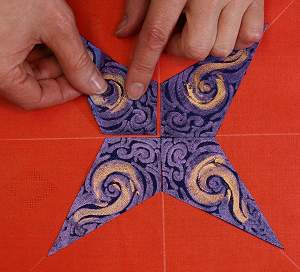 Step 4: Arrange the shapes
Stars are assembled on a base fabric, cut into a square. Orientation marks are necessary on the base fabric to ensure an even distance between the star points. Stars are constructed in a circle which has been divided into evenly spaced sections by lines radiating from the center axis point. Each line locates a "point" on a star. Stars may have 4, 5, 6, 8, 12, 16, 24 points, or more. It's easy to create orientation templates by using a 360 degree protractor, transparency sheets or clear stencil plastic and permanent markers. (Don't worry, you won't have to figure out how to get to 16 points — I've done all the math for you in the StarBuilder Inspirations book!)
After all the star part are arranged, remove the paper liner from the shapes, and place the center of the shape directly over the orientation line.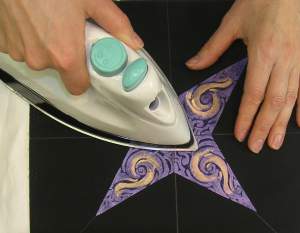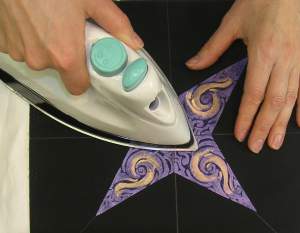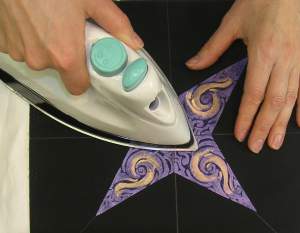 Step 5: Fuse shapes to background
When you are happy with your design, check to make sure the shapes have not moved before the final fusing.
Making a complete star
These photos show the start of a star. If you want to see how to make the Capricorn star shown below, follow this link and I'll show you the "recipe."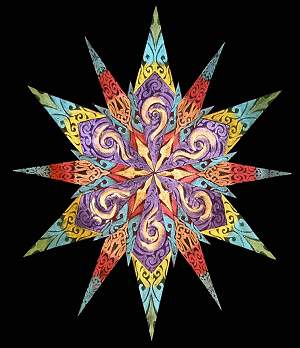 Shelly's Note
Laura's book is literally "hot off the press" and is self-published. The best place to find StarBuilder Inspirations and the StarBuilder stamps is on her website at www.LauraMurrayDesigns.com. Hop on over to her site for more information, more ideas, and lots of other fun things to do with paintstiks.