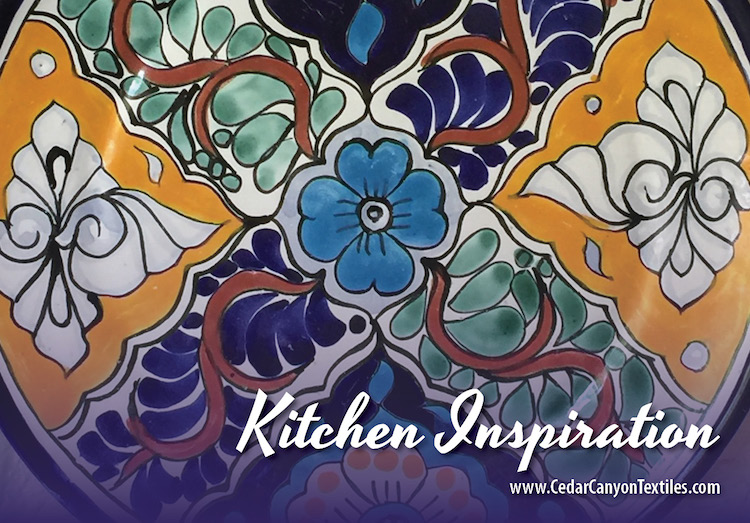 As I slowly settle in at El Castillo – our new home in Chapala – I have an overwhelming urge to Start Something New. Thankfully, I don't have to look far for ideas. El Castillo came complete with a huge dose of Kitchen Inspiration!
The kitchens in Mexico are very different than those back in Minnesota. Instead of hiding all the dishes away in cupboards, the dishes here are on display. And what lovely dishes they are!
There are all manner of plates, platters, bowls and trays in a huge array of designs. The previous occupants of El Castillo were definitely not matchy-matchy folks. A little of this, a little of that seems to be the order of the day.
The dishes are mostly Mexican Majolica. They are commonly called "Talavara," but that name is technically reserved for goods from specific workshops in the city of Puebla. Whatever the proper name, I love them!
I'm fascinated by the individual motifs in the designs. Many are familiar. Simple flowers, lovely scrolls that look like the feathers we use in our quilting.
One of my favorite pieces is the base that holds the huge bottle of water for the kitchen. There are an amazing number of designs in just this one piece!
Even the lid for the water base is packed with color and design. It's fantastic!
I'm not quite sure how all this kitchen inspiration will make its way into my fabric art, but I'm thankful to have a treasure trove of beautiful designs right here in the house.
Your Turn
Do you have things in your home that inspire your work? Leave a note below. I'd love to hear your stories!