by Shelly Stokes, Founder and Creative Mentor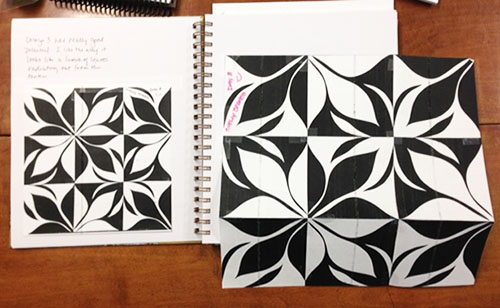 When I started my 30 Days of Design Magic, it became clear rather quickly that I needed two things:
A way to keep track of all 30 designs and the associated exercises, and
A place where I could make notes and doodle about possible follow-up designs.
I have been taking an online class from Sharon Boggon over at Pintangle.com about keeping a Studio Journal. I decided this was the perfect solution for my 30 Days designs.
Each day after I create my design, I make a bunch of copies, cut them up, and make a 9-patch version of the design. It us pretty big — 12" x 12" — so I take a photo with my iPhone and send it over to my computer.
Once it is on the computer, I do a couple of quick edits to "square it up" and shrink it down to about 500 pixels wide. That is small enough to print on a single sheet of paper. I print one copy at that size, and a second at 50% so I can see the designs in a smaller scale.
My 30 Days of Design Magic Sketchbook
To keep things orderly (which is NOT my strong suit!) I paste/tape everything into my "pages for the day," leaving plenty of room for notes and doodles. Here are my pages: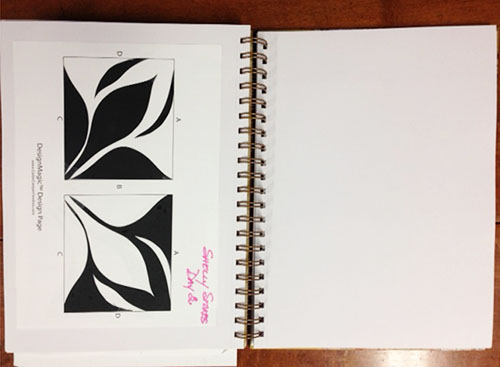 On the first spread, I add my original Design Page.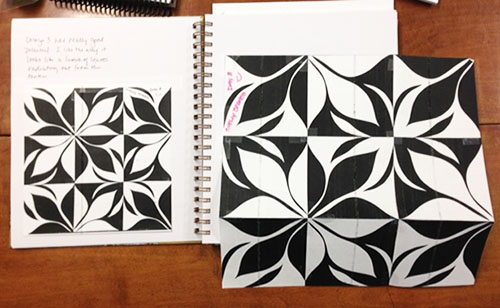 On the second spread, I add the smaller version of the 9-patch and the full size 9-patch composite image.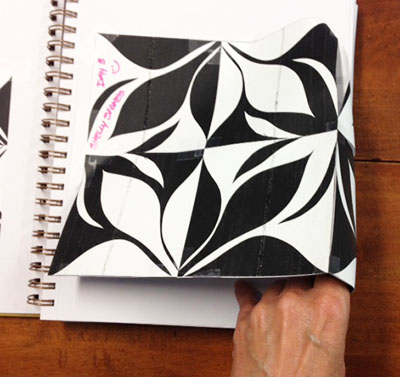 The full size 9-patch is too big for my book, so I fold the bottom row up, then the right side in so that it fits in my sketchbook.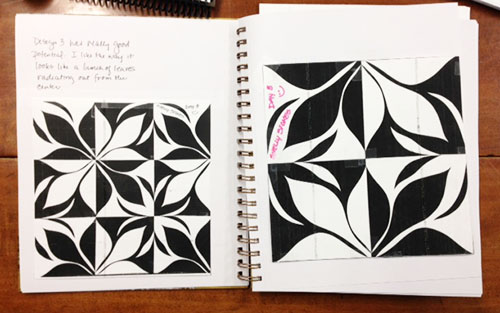 The pages look like this when the 9-patch is all tucked away.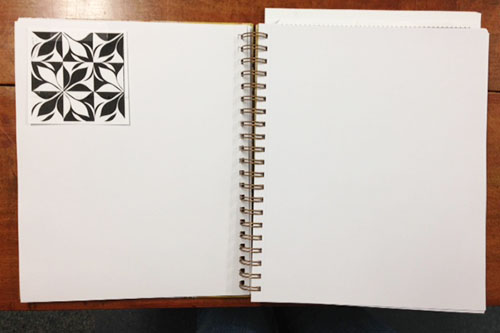 Finally, I put a "mini" version of the 9-patch on the 3rd spread. I have not gone back and played with this design yet, but some of my pages are full of notes and ideas. I am glad I kept the extra space for each design. It is much easier than trying to go back and add more pages.
Sharon Boggon calls a book like this a Studio Journal. It is a working journal, not a piece of art. I am new to this practice, but I like it a lot. I find myself making notes about things I thought about on my morning walk — even the elusive ideas that pop into my head when I wake up in the morning.
I do not expect I will ever catch all of my stray ideas, but I can see that this will be a very useful tool. It is keeping my 30 Days adventure a whole lot more organized than my usual stack of piles. I will count that as a big step forward.