As you know, there are a whole pile of Paintstik colors out there. There are 21 Iridescent colors, 54 Matte colors and 2 blenders. So how in the world do we keep track?
I'm not a big fan of printed color cards as it's just about impossible to get accurate colors. The best thing I have found is actually painting the colors out on paper, then turning them into swatches I can carry with me or use for reference in the studio. Here's my quick and dirty process.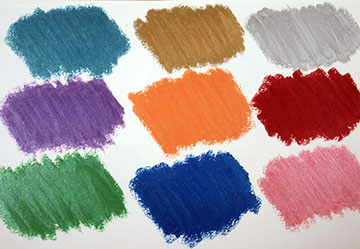 I used some inexpensive water color paper. It's heavier than regular copy paper and makes a better swatch. As you can see, I just used the paintstik to color a section of paper with each color. I kept the papers in a file for the longest time, but I disliked having to find them when I needed them.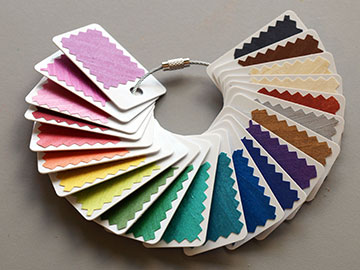 The last time I pulled them out, I had one of those "V-8" moments. (Thwack!) I remembered the Swatch Buddies that Missy and Dave Azen introduced at Quilt Market about a year ago. (Actually, I don't remember which market I met them at. They all run together.)
At any rate, I contacted Dave and told him about my idea for using the swatches and he sent me a pack to give it a try. I think they are fantastic! They are beautiful as well as compact – and the colors are absolutely accurate. Yeah!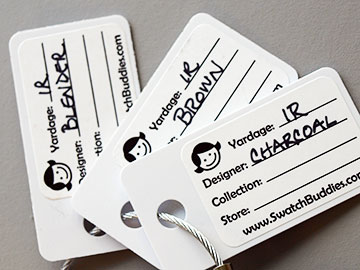 Missy designed the tags for keeping track of fabric, so the labels are geared that way. I simply wrote in my paint colors. The trick is to get the tags with the right paint colors. It's pretty easy with the Iridescent colors, but takes a little more effort with the Matte line.
Do I Have That Color In My Collection?
Here's an idea that will help you keep track of the colors you have – and which you need to add to your collection using the Swatch Buddies tool.
Make a label for each color and add it to one side of the plastic swatch tag.
Paint swatches on paper for each paintstik color in your collection.
Allow the paint to dry – of course!
Cut swatches from your paper and stick them on the back side of the appropriate swatch tags.
Now you have the complete list of colors on the tags. If the color side of the tag is empty, it's a color to add to your collection. Simple!
If you want to get a hold of your own Swatch Buddies, click over to SwatchBuddies.com. Tell them Shelly sent you.