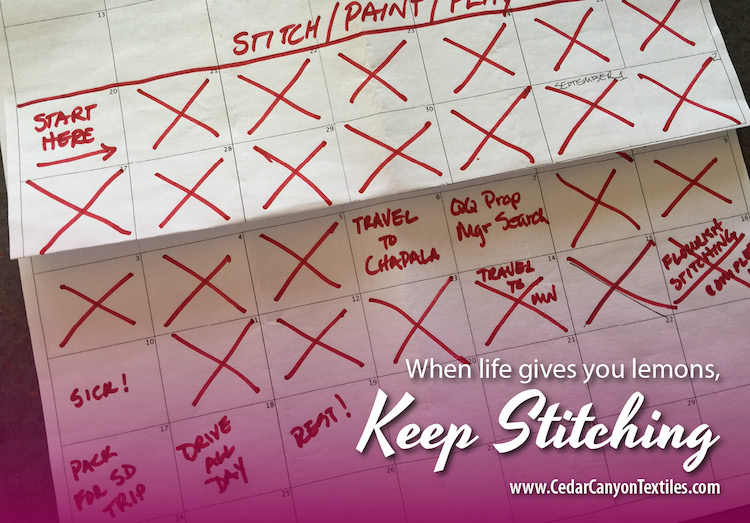 A few weeks ago, I wrote about my strategy for getting "back into the studio" with 20 minutes of stitching each day. When the universe saw fit to change my plans the past few weeks, I decided I needed to Keep Stitching!
My "plan" to take part in the Silhouette Curio Intensive retreat turned into an emergency trip to Chapala to take care of business for our condo association. My return was delayed when I picked up a nasty tummy bug. I had to cancel my lecture for the South Minneapolis quilt guild because I couldn't be on a flight and in the doctor's office at the same time, and I spent my birthday in airports instead of at home with my sweetheart.
While I missed a couple of days, I made it a point to Keep Stitching – just to do something normal in the midst of the craziness. Here's my progress update.
The good news is that I've almost completed the embroidery on both the flourishes. I just have the small circles to finish on each flourish. I used solid color threads on one flourish…
… and variegated threads on the second flourish. My first impression is that I prefer the threads with less color and value variation for a design this size. It will be interesting to see how it looks after the beads are added.
Here are the two flourish designs side by side. Both look good, and I'll reserve judgement on the thread colors for now.
With the stitching (nearly) complete, it's time to Keep Stitching – with beads! I'll use the techniques I've developed over the past year to add some bling to my Flourish experiment.
As for that batch of lemons that life sent my way… Well, that's life. As always, we do what we've got to do – and do our best to make some lemonade. I'm happy I was able to help my friends in Chapala. I'm sad that I missed my program with the Minneapolis quilters and the Silhouette retreat. But in the big scheme of things, it's all good.
Your Turn
Do you have a creative habit that keeps you sane when life upends your plans? What's your "keep stitching" equivalent? Leave a comment below. I'd love to hear from you.