Some days I get tons of junk in the e-mail, but some days I get absolute treasures! I recently received photos from two artists with notes and photos of how they are using the Design Magic concept with animals. I have to be honest – I never even considered playing with critters as a design elements – but these ladies could create an entire menagerie! Let's start with Kathy Tanner's elephants. I'll share another post with a great idea for birds later.
Meet Kathy Tanner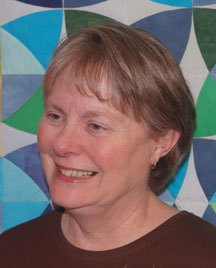 Kathy Tanner is a fiber artist in Tisdale, Saskatchewan, Canada. Kathy creates hand dyed fabric, and carries a few select lines of embellishing products along with some quilting staples. Kathy sells her products over the internet and at various quilt shows in her country. Kathy's company is called Harmony Hand Dyes.
I'm fortunate that Kathy is a big fan of our Shiva™ Paintstiks. She has sent me a number of great photos over the years, but I was particularly interested to see what she did with the Design Magic Concept. Let's take a look at Kathy's elephants.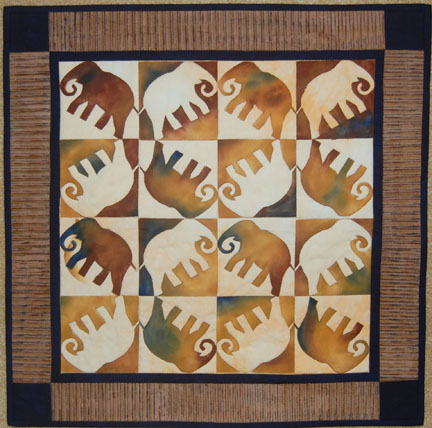 Kathy took a silhouette of an elephant and placed it in a square to that the design touched the edge of the square on all 4 sides. By doing this, she trapped space in each of the 4 corners. The trapped space is what creates the secondary design elements that appear when the design is put into a repeating pattern.
Notice that one of the connections is very small – it's the elephant's tail. This illustrates perfectly that even a very small connection to the edge of the square does the job. The space is trapped and your eye stops when you are viewing the design.
Make Your Own Elephants
Kathy has generously made her elephant design available to anyone who wants to start their own Design Magic critter collection. Here is the design as it would look on a Design Page.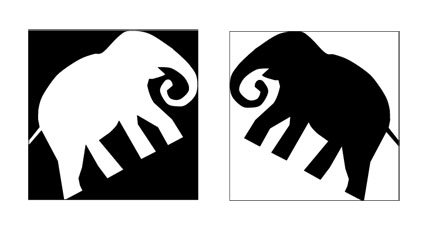 You can download a full size copy of Kathy's design by visiting the Inspirations page of her website. And while you are there, check out her Chinese Lanterns. This is another great design that Kathy created and it is also available as a free download.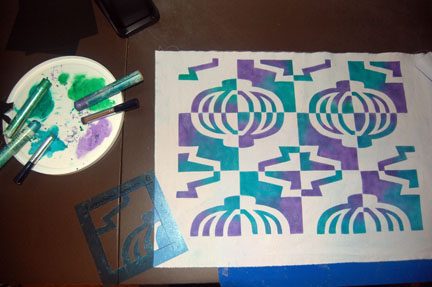 A special thanks to Kathy for sharing her designs. I love seeing what our friends are doing with Design Magic. If you have a design you are willing to share, please send it along to use at contacts@cedarcanyontextiles.com. Thanks so much – and happy painting!