by Shelly Stokes, Founder and Creative Mentor

The new Kaleidoscope Rubbing Plates arrived at our packaging center last Friday, so I hopped in the car and picked up a couple of sets for myself. I was more than a little excited and wanted to share the fun, so I called my friend Deb and invited her for play time. It is always more fun to play with friends!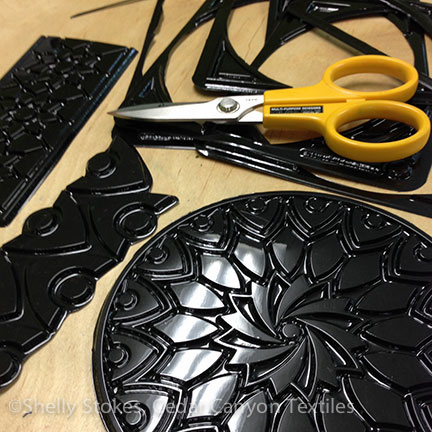 First off, I cut up one set of the Kaleidoscope plates so I could play "in the round." I cut the corners off the circular medallions and trimmed the smaller images close to the edges of the designs. (The plates are easy to cut with a standard pair of scissors.)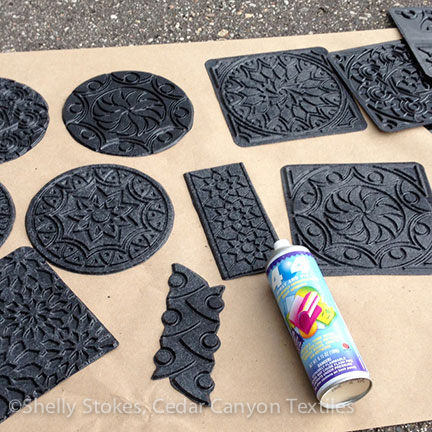 The next step was a quick trip up the steps and out to the driveway. I prefer to spray sticky stuff outdoors as it can get a bit stinky in the studio.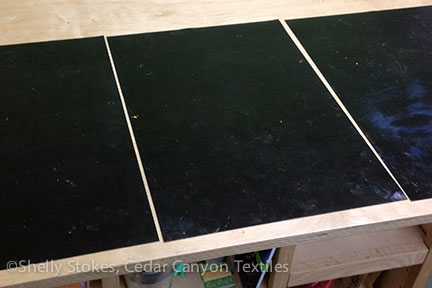 I decided to jump right into painting a one-yard piece of black fabric, so I put 3 Grip-n-Grip mats on my work table. With 3 mats, I did not have to move the fabric around as much. Someday I am going to have a table-size Grip-n-Grip mat made for me. That would be amazing!
Then I peeled the film off of my entire set of Iridescent Paintstiks, except for White, Charcoal and Silver.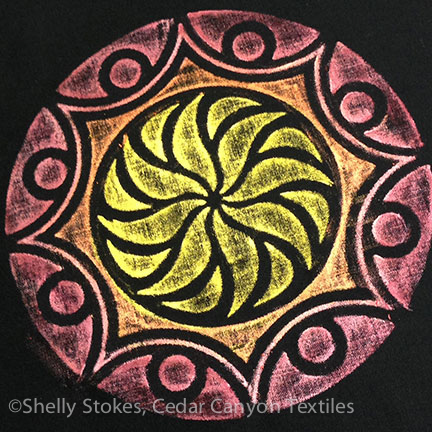 Even though I made test rubbings on the Kaleidoscope molds, I am never absolutely sure how the plates will work until I can make rubbings from the actual plates. When I use the plastic forms, it takes up some of the space in the mold and the images get a little closer together. I was thrilled when I tested the first image and it was beautiful!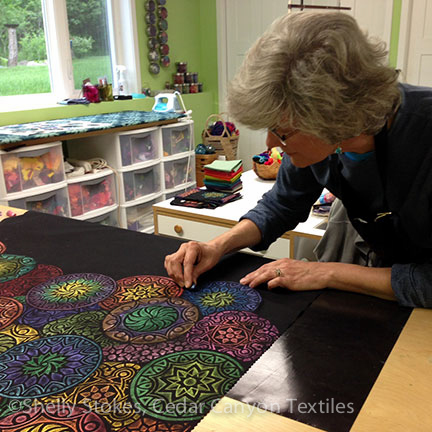 Deb snapped a few photos of me working away. I was about half way through my one-yard piece when she took this photo.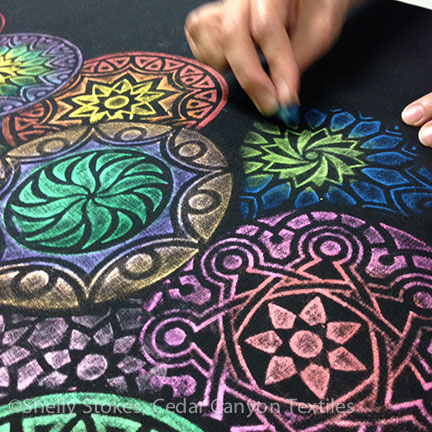 Here is a look closer to the action. I will show you the whole piece in just a moment.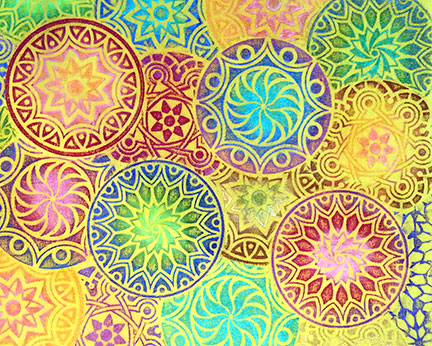 First, I want to show you Deb's fabric. She worked on a fat quarter of "ugly" gold fabric that had been hanging around in her studio for half of forever. When she dropped over, she just grabbed three pieces of solid color fabric, and this was one of them. Looks pretty good to me!

I did a second experiment to test the "background" plate — and I love it! The Iridescent Sapphire Paintstik color was perfect for adding the background images to this piece of deep blue fabric.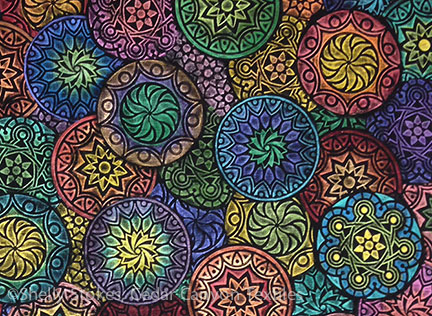 And here's a section of my black fabric. (Click here to see a larger image.) By trimming the corners from the plates, we were able to have a bundle of fun with the circular images.
In case you are wondering, here is how I painted my fabric: I painted complete circular images here and there on the fabric, then kept filling in between the images. It got a little tight in some places, but it is really not difficult to leave a fairly even space around one image when painting the next as long as you slow down and use the side of the paintstik.
One Set or Two?
The Kaleidoscope plates (as they are designed) are prefect for making images that will fit nicely into square blocks. But making "Rubbings In The Round" requires a set with the corners trimmed off. If you want to do both, think about getting a second set of plates.
Kaleidoscope Rubbing Plates Ship In A Few Short Days!
Our friends at the Alexandria Opportunities Center are packing away, and will have a shipment sent off to the warehouse within a week.
I am grabbing the first couple of boxes and delivering them to Laura Murray Designs and Fabrications by Doris at the Minnesota Quilt Show. If you visit the show, stop by to pick up your set!
Resources
For our play time, Deb and I used the following