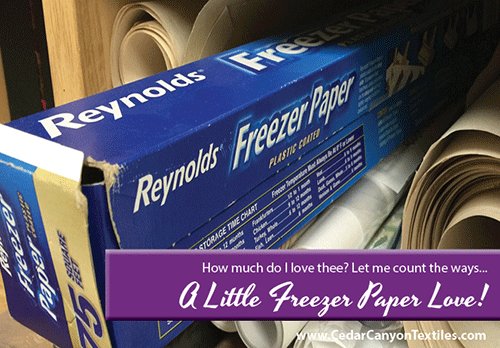 If you are like any of my creative friends, you have some tools in your sewing room or studio that you love, love love! Oops, let's start over – you ARE one of my creative friends!
Now, as I was saying… I'm more than willing to bet that you have a short list of favorite tools. But I'll bet that if we compared, our lists would be different. One of the top tools on my Favorites list is Freezer Paper. Yup, I'm talking about the stuff on a roll from the grocery store that is plain paper on one side and shiny on the other.
Seriously – Freezer paper is one of my Go-To tools! It makes fabulous stencils and masks for bunches of my Paintstik craziness, it's easy to find and it's cheap!
We're going to spend a LOT of time working with Freezer Paper in the Whole Cloth Collage class that is set to begin in mid-January, so I'm not going to go into a lot of techie stuff here. But I do have a few pictures that should help you understand my Freezer Paper Love.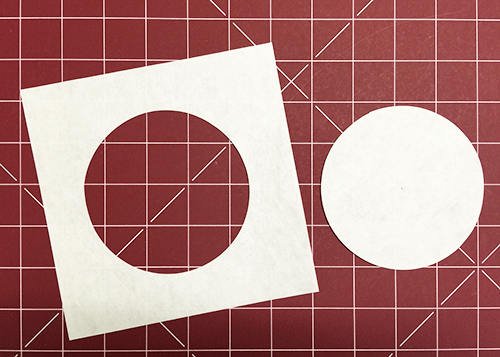 I simply love the way I can cut a shape out of freezer paper…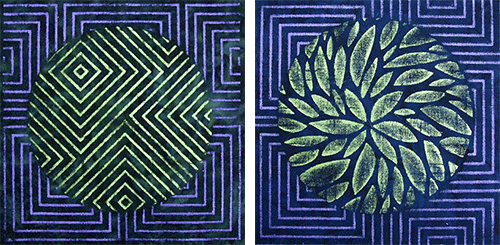 … and use it to trap a paintstik rubbing inside the shape – and use a different pattern in the background. Cool!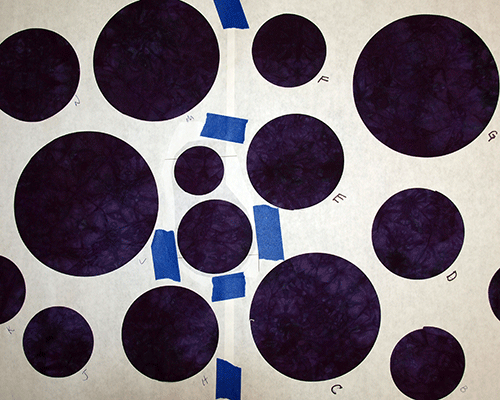 Plus, there's no need to stay small. By taking advantage of the "sticky" quality of the shiny side of the paper…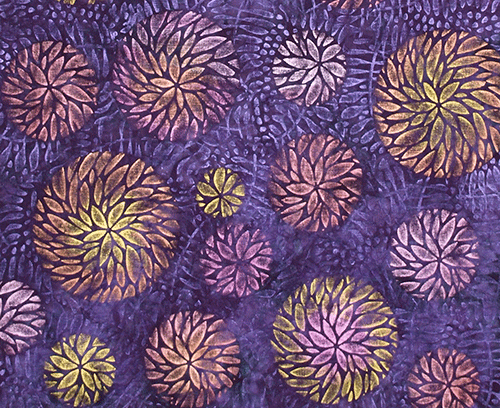 … it's easy to add fabulous patterns to large pieces of fabric.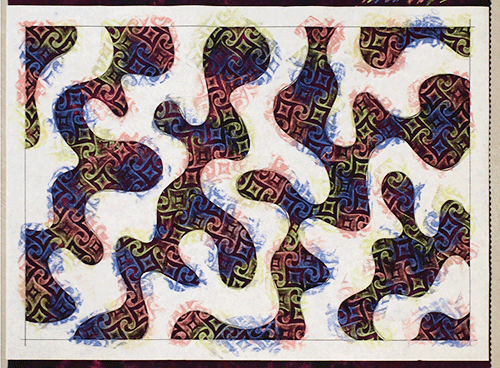 When we did the Shape Shifter Challenge back in 2013, Penny Moore from New Zealand shared her winning technique for making fabulous fabric from a two-layer freezer paper template.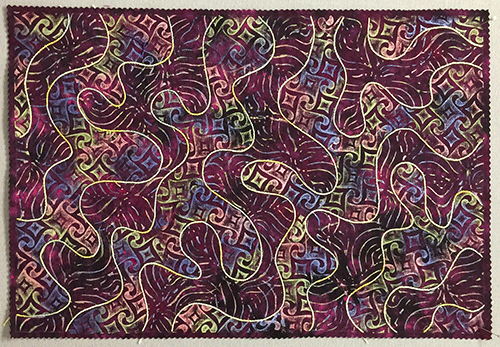 Isn't that simply amazing?
If that's not enough, try some freezer paper collage!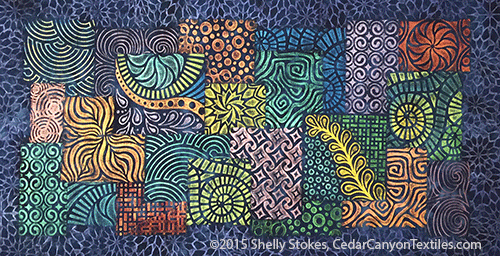 I can't tell you how glad I am that my friend Janet Houle got me started on this idea. I'm having the time of my life playing with Whole Cloth Collage, and it's all her fault!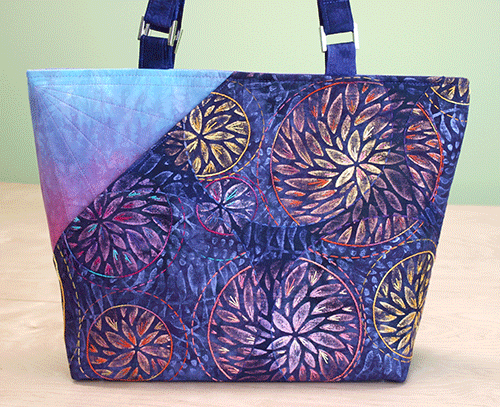 Did I hear you thinking out loud? Something like, "Well that's cool, but what would I make with that fabric?" How about a beautiful bag to spice up your wardrobe…
… or a Paint + Stitch collage that is sure to brighten you day!
Yes, my Freezer Paper Love Affair runs pretty deep. (My hubby isn't jealous, but the other tools in my studio are green with envy!)
I hope you'll join me in January for the Whole Cloth Collage online course. I'll keep you posted once the course details and registration pages are ready for you.
Resources
For some interesting tidbits on Freezer Paper, including the one thing you Must Know before using it on a project, click over to Freezer Paper Is A Fabric Artist's Best Friend.
To purchase small rolls of freezer paper, visit your local grocery store. Reynolds is the most commonly available brand, but all should work well.
ULINE is a company that sells packaging supplies and various papers. They are a great source for rolls of Freezer Paper and brown Kraft paper (another item on my "gotta have it" list). Just keep in mind that those a Very Large Rolls of paper!
Your Turn
What are the tools that you love, love, love? You know, the ones you simply can't live without?
Post your list below! I'd love to know what's on your Short List.