Would you like to get access to all our patterns, instructions and videos
in the Members-Only Area – for FREE?
It's all yours – at absolutely no charge – when you join the

WHAT MEMBERS ARE SAYING ABOUT OUR
COMMUNITY NEWSLETTER:
"Oh my, how you inspire me! I have briefly experimented with paintstiks , more play is in my future. Regardless of your topic, I receive a take away, and am eager to get into my studio!"
Merrilyn Scott
"You have done it again! Because I had promised myself a radical decluttering of email newsletters (too much information taking precious time away from my creative pursuits…). I was preparing to unsubscribe from your newsletter two weeks ago. Then you sent such a inspiring update and passed along two absolutely marvelous links. Thank you so very much. Your letters really do "spark joy" and send me back whistling to my drawing board."
Laura Paulu
"Thank you so much for these articles. You have such a wealth of information and are such a good teacher. Looking forward to future articles."
Jann Prince
"You are an excellent communicator. Your website and newsletters are more helpful and user-friendly than any I have ever seen, and I've been on the web for decades."
Kathy Maras, Glen Ellyn IL
"I want to make sure you know that I have always found your newsletter and web site "warm and inviting" invitations to explore. I've saved every one of your newsletters since I started getting them because they have truly useful interesting, and inspiring information, something you don't find with a lot of newsletters."
Jeanine Center, Ann Arbor, Michigan
Get Instant Access to these Members-Only Goodies: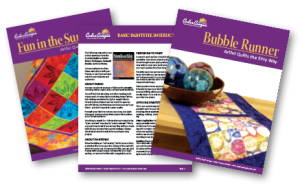 Free Paintstik Projects, including the Fun in the Sun quilt
Tip Sheets on using Paintstiks and more
How-To Information
Online Course Previews
Plus, you'll get an occasional copy of my Fabric Art Magic newsletter in your Email inbox whenever it is published.