by Shelly Stokes, Founder and Creative Mentor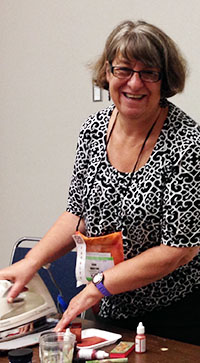 While I was in Houston for Quilt Festival, I had a chance to spend some time with several of my favorite Aussies, including Lisa Walton. Lisa is one of the more adventurous textile artists I have met, both in her willingness to hop on a plane to far-flung parts of the world, and to explore almost any and every facet of adding color and texture to fabric.
In many ways, Lisa is my polar opposite. I tend to choose a tool or technique – and then block out everything else while I master that one thing. Lisa, on the other hand, thrives on variety – exploring a huge variety of techniques – and having a wonderful time in the process!
Of course, Lisa is not content to just do her own experiments. She loves to tickle the creative fancy of everyone she meets. Her latest adventure is to publish a series of Ebooks related to textile art in Amazon's Kindle format.
When Lisa first told me about putting a creative How-To book in a Kindle format, I wasn't sure what to think. I'm so used to the pretty pictures in printed books. To be honest, I wasn't too keen on the idea.
Until. I. Downloaded. The. Book.
Creative Journeys: Fun & Easy Textile Surface Design Techniques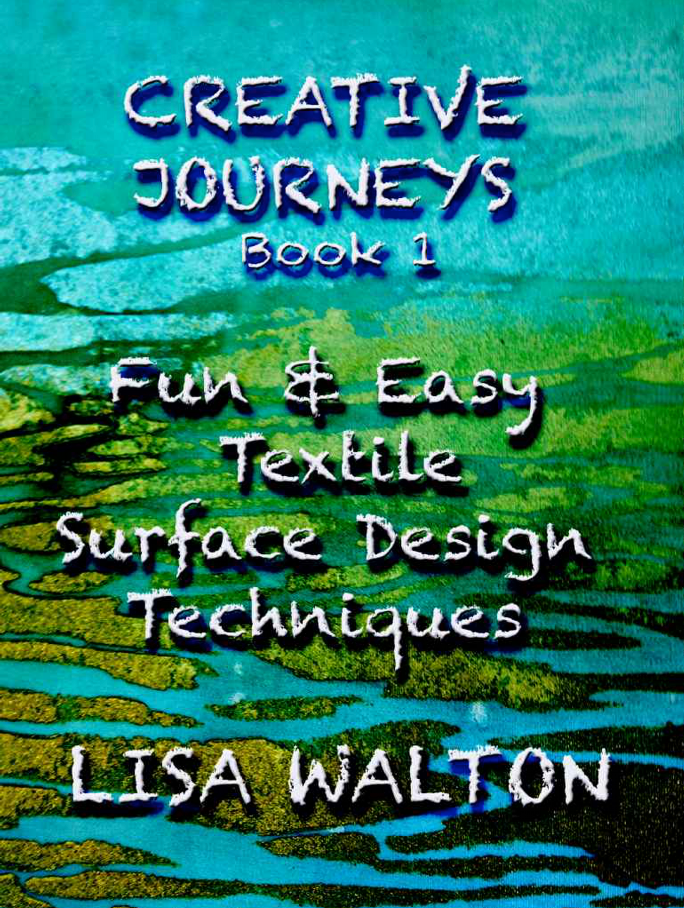 I love it! I'll be the first to say that reading a Kindle book is not the same as holding a beautiful, glossy, book in my hands. But, for this book, the format works beautifully.
Creative Journeys Book 1 is all about exploring a wide range of Surface Design techniques. Think of it as Surface Design 101. It covers everything from fabric painting, screen printing and stenciling, to stamping, making rubbings and working with metallic foils.
Each section of the book contains how-to information, beautiful pictures of completed pieces and stories about how Lisa actually used the techniques to create images on fabric during her travels.
Making Art On Location
Here is a photos from one of Lisa's travel adventures.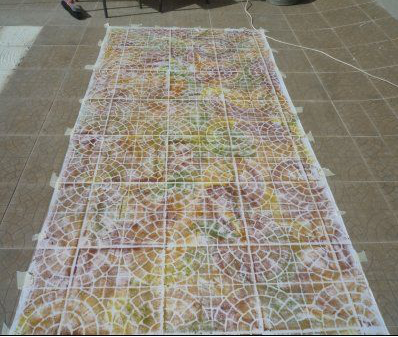 Lisa taped fabric over the tile on a patio in Italy and made Paintstik Rubbings. I just loved this idea — and will definitely give it a whirl on my next trip!
How-To Videos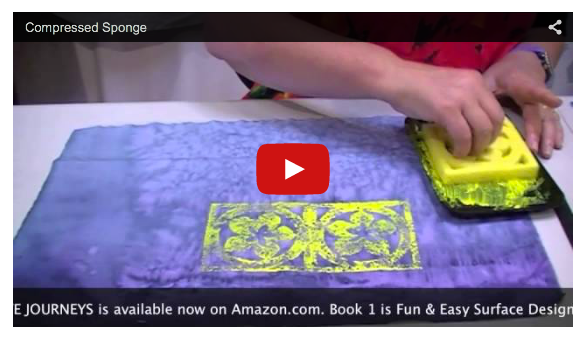 As a bonus, several sections contain links to lovely how-to videos over at the Dyed & Gone to Heaven website.
I love Lisa's conversational style of writing and her very approachable style of making videos. She makes everything feel very relaxed and "do-able."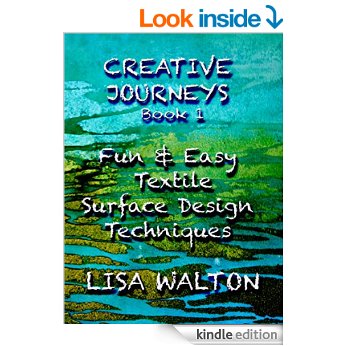 I've saved the best bit for last. At just $8.95, Creative Journeys is an incredible value.
You don't even have to own a Kindle to read it. Whatever type of computer or tablet you own, you can download the Kindle app for your device and enjoy Lisa's book wherever you are and whenever you wish.
I have downloaded the book to my laptop and my iPad, and I'm excited to take it with me for my 8-week trip to Mexico early next year. There are some beautiful wrought-iron tables and chairs at the QQ Inn in Chapala that are just begging for some paintstik rubbings!
Thoughts From Other Artists
To check out some other reviews of Creative Journeys visit:
8th December – Sarah Ann Smith – www.sarahannsmith.com/weblog
9th December – Lyric Kinard – http://lyrickinard.com/blog
10th December – Erica Spinks – http://creativedabbling.blogspot.com.au
11th December – Susan Brubaker Knapp – http://wwwbluemoonriver.blogspot.com
12th December – Brenda Gael Smith – http://serendipitypatchwork.com.au/blog
13th December – Judy Coates Perez – http://www.judycoatesperez.com/