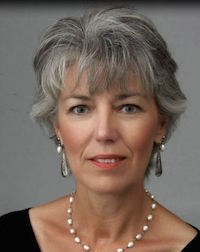 Just when I think I have have seen (and done) it all, someone comes up with a brilliant new way to use my much beloved Paintstiks on fabric. Today, I'm excited to tell you that Michelle Watts of www.jmichellewatts.com has just released a new line of patterns for creating amazingly accurate miniature quilts with incredibly precise laser-cut paper stencils! Woohoo!
I'm a great admirer or miniature quilts, but I know I would never have the patience to make them. Read that NEVER. I can do details, but there's a limit! Comprendo? So when Michelle called to tell me about her new patterns, I was pretty intrigued, but wee bit skeptical. Could it really be that easy?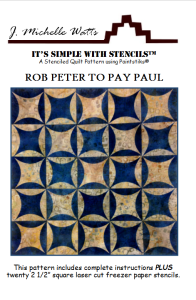 When a couple of her patterns landed in my mailbox, I opened them up – and was totally convinced! With her amazing little laser-cut stencils, making amazingly accurate miniature quilts dropped off my "never-never" list and popped right on my list of very fun things to do!
It (Really Is) Simple With Stencils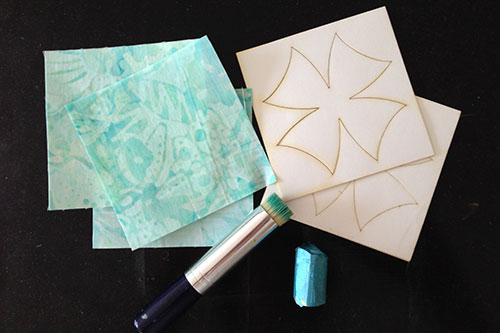 Now I can just see the wheels turning in your brain. You're thinking, "Seriously?" I totally get that! Before I sat down to write this post, I actually tried it out for myself. All you need is a bunch of fabric squares the same size as the stencils, one of Michelle's patterns, a Paintstik, a brush and an iron. Seriously!
Here is a quick look at my experiment in photos, but there's more. Read on to see a video of Michelle doing a quick demo of this technique.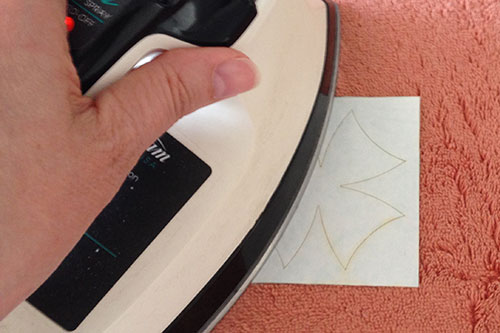 The trick is to leave the 2 parts of the stencil together as you start. Press the full stencil onto a square of fabric.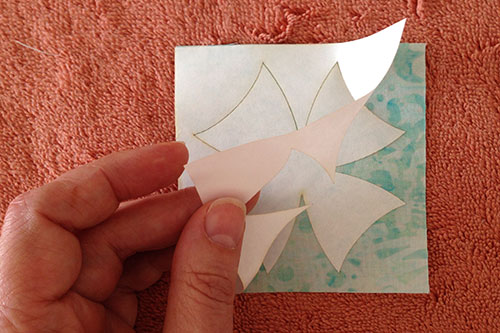 Peel up the outer part of the stencil.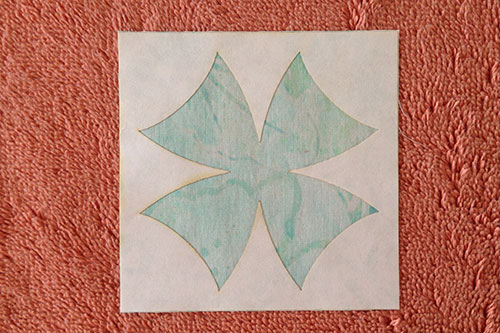 Press that part of the stencil onto the next square of fabric.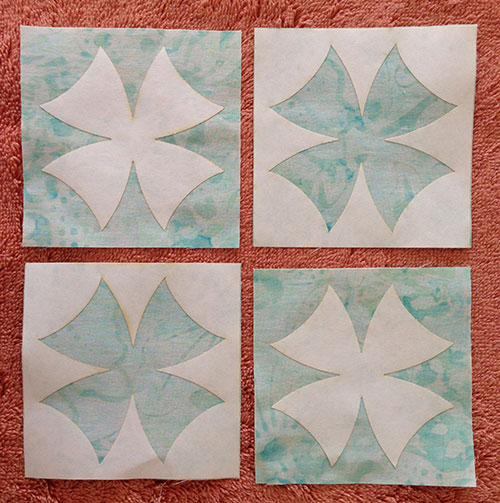 Within minutes you have a bunch of blocks ready to paint! Fast, fast, fast!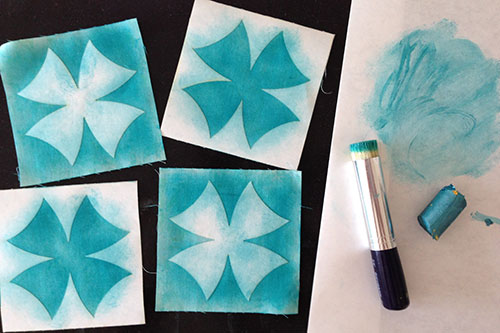 Since these are very small blocks – as in 2 ½" to 4 ½" squares – the stenciling is really fast. I painted up these 4 blocks in less than 10 minutes!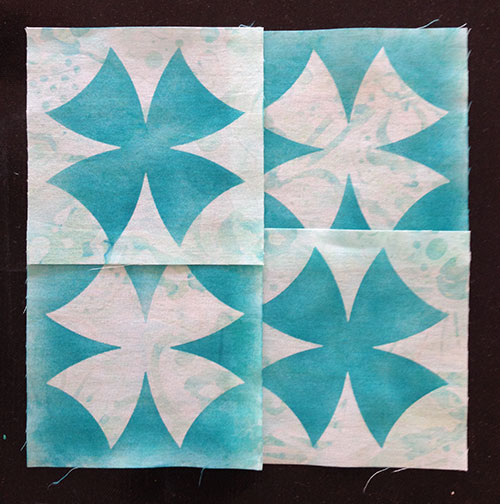 I didn't bring a sewing machine with me to Chapala, but I think you can see how easily these blocks would stitch right up into a lovely miniature because – you got it – the seam allowances are built right into the stencils. Michelle really has nailed it with these stencils!
Now, if my short walk through does not have you convinced that you too can make beautiful miniature quilts (fast!), I've got a special treat for you. Michelle filmed a quick demo for us so you can see her do this right before your eyes!
Special Offer: Free Shipping on Patterns to a US Address
Did I tell you it's your lucky day? When you order by April 8th, Michelle is offering free shipping on all of her wonderful patterns for Fabric Art Magic Readers – and that means you! Here's how it works:
Click over to the It's Simple With Stencils page (or any other pattern page!) on Michelle's website and choose your favorite patterns. Proceed to the checkout even though the shipping charges are showing in the shopping cart.

BEFORE you click on Purchase Now button, click just above it where the link says to Add a Note. Enter SSNEWS in the white box and then Click on Purchase Now.
Michelle checks all the orders before she processes the credit card transactions. She will remove the shipping charge for all orders for patterns until April 8th!
Offer Details: Free shipping offer only available for pattern orders sent to a US address. Free shipping does not apply to kits, rulers and freight intensive items. Got it? Orders must be placed by April 8, 2015. Enjoy!
Resources:
You can see all of Michelle's beautiful quilt patterns at www.jmichellewatts.com.
The patterns in the It's Simple With Stencils line can be found here.
When I am stenciling small blocks like this, I prefer to use a large brush so that I don't see a lot of brush marks. You can find Stencil and Paintstik brushes in our Online Store.
And Paintstiks? Of course we have Paintstiks! For these projects, I would go straight for the Minis so you have more colors to choose from. We have Minis in both Iridescent and Matte colors ready and waiting for you!
Your Turn
So, what do you think about Michelle's Simple With Stencils concept? Are you ready to tackle a miniature quilt with confidence?
Leave a comment below or over on our Facebook page. I would love to hear your thoughts.