It has been a busy week here in Orlando at Bernina University. We opened the Merchant Mall at 7:30 am yesterday so the dealers could do their last minute shopping. (That was a bit early after a couple of leisurely mornings… yikes!) I had a lovely spot in the hall with great neighbors, so it was never a dull moment. Here's a photo of my space.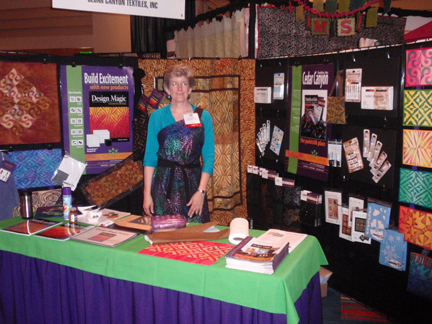 It was a lot less space than I have at Quilt Market, so I had to really pare down my samples and display. But I had plenty of room to demonstrate the new Design Magic stenciling process and had a wonderful time talking to dealers, shop owners and educators.
The sample on the table is my new (free) Magic Mat pattern. I love to give away a free easy project at this type of event. I'll be posting an entry on the Magic Mats shortly, so stay tuned.
Saturday brought a special treat. Brewer Sewing invited about 50 shops from the area who were not Bernina dealers to visit the Merchant Mall. As soon as the door opened, two lovely ladies made a bee-line for my space. Much to my surprise, it was Diane Smith (FiberSmith) and a friend. Diane was one of my original Florida customers. We have spoken on the phone and sent loads of messages back and forth over the years. It was truly a treat to have the opportunity to finally meet in person!
Well, I'm off to the airport and hoping for an uneventful flight. I see that our friends at Delta have oversold the flight, so I'm keeping my fingers crossed that I don't get bumped… Here's hoping this bording pass does me some good!