Welcome to the CCT Blog. It's a challenge to keep up with the changes on the internet, but I decided it's time to stick my toe into blog-land. For my first post, I thought I would take you along for a backstage pass.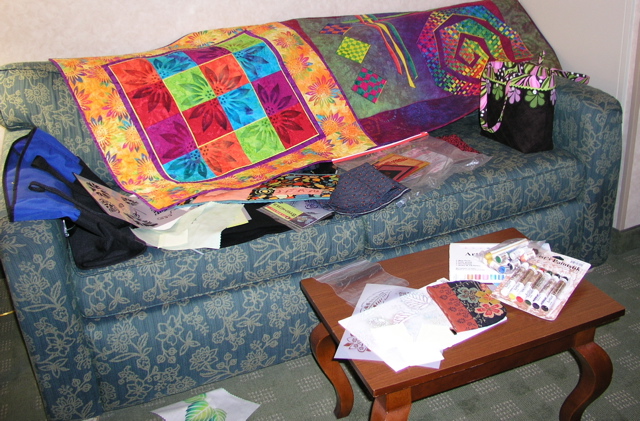 At the end of January, I made another trip to Cleveland, Ohio to tape a couple of segments for Quilting Arts TV. When I looked around my hotel room, it looked like a bomb went off in my suitcase, spewing forth all the materials I so carefully packed for my segments . The quilts were laying around as I attempted to remove the wrinkles. I like to roll my quilts rather than folding them, but I didn't have a good way to drag them though an airport in a long tube. Ah, well. The rest of the stuff? Well, let's just say I didn't quite have everything done when I left home. So what else is new…
This was my second trip to tape segments, so I didn't feel like such a rookie. At least I had a fair idea of what to expect at the studio. Somehow I had it in my mind that taping for TV would be very glamorous. Silly me. It's a ton of work to figure out what to say in the alloted time, come up with just the right set of steps and samples, and remember not to say the brand name for anything. After all, it is public television. I have no idea how Pokey Bolton (delightful hostess and editor of two incredble magazines) manages to figure out 13 segments and keep track of all her guests, not to mention the 13 changes of clothes. It gives me a totally new appreciation for the term "multi-tasking."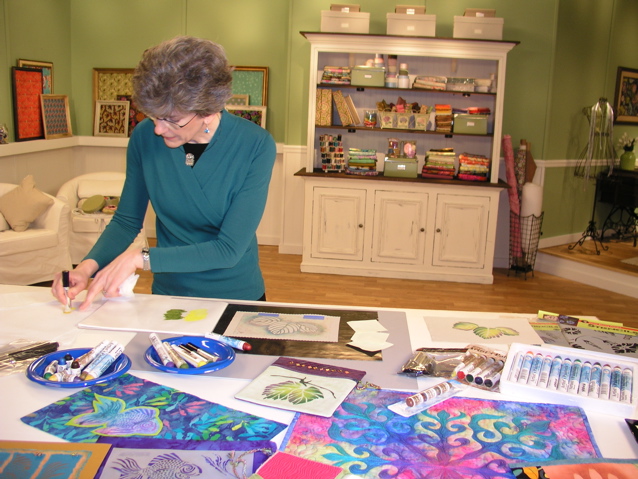 The taping process itself is nothing short of amazing. Segments don't get filmed in order — it all depends on who is available at what time on a particular day, and how to make the fewest changes on the set. I have no idea how they keep it all straight. I discovered that they have a magical wardrobe room that can save the day. When I pulled out my hot pink sweater and Pokey was wearing orange for one segment, we all looked at each other and said "I don't think so!" Katherine rescued me with a perfect little jacket. She also graciously provided batteries when my camera quit. There is not much that they can't take care of in a pinch. And thank heavens for a good make-up artist. I have to admit that she makes us look pretty darn good under all the heavy lights!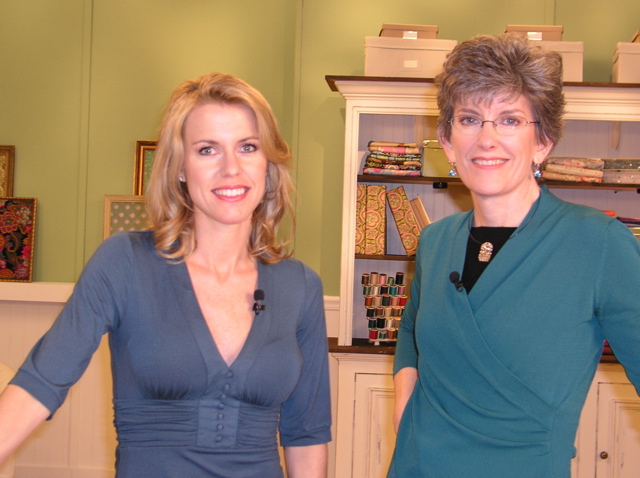 Here we are, ready to go!
The most exciting part for me is meeting the other guests. I had a delightful dinner with Jane Davila, Rayna Gillman and Clare Shipman on Sunday evening. Jane's husband was a wonderful sport. I'm pretty sure he didn't get a word in edge-wise with the 4 of us going on and on about this and that. I have to say that I'm very much in awe of the art that these ladies create. I feel very honored to meet them and see what they are doing.
So, the next time you watch Quilting Arts TV (or any program), you'll have a little better idea of what happens to make those segments look so easy. You can read more about the taping and other guests by visiting the Quilting Arts Blog by editor Pokey Bolton. Enjoy the show!