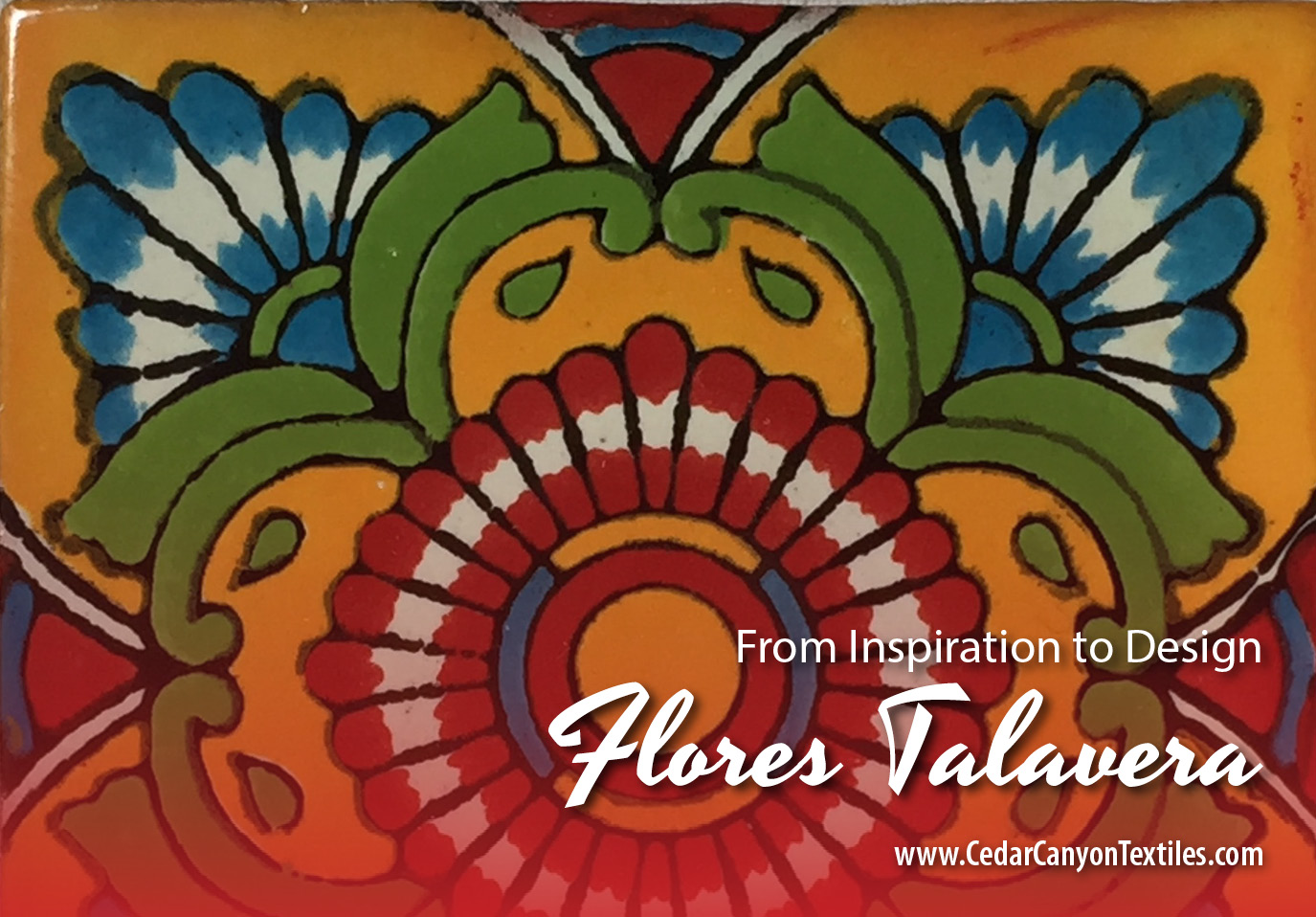 A few weeks ago, I wrote a post about the first design I created in my new Inspired by Talavera adventures. In this post, I'll show you how I got from inspiration to a completed design that I call Flores Talavera.
This all started with the D.I.V.A.S., my small quilt group at home. For our challenge this year, we decided to do a Row Quilt, with each member contributing a design based on Leaves and Flowers. Since I'm up to my eyeballs in Talavera-style inspiration here in Chapala, I didn't have to look too far for ideas.
The half-flower motif is extremely common in Talavera designs. I used the flower in the corner of this tile as a guide and created my own personal version.
Before we go on, I want to emphasize that point. I love the designs on the Talavera pottery and tiles. But they are not mine to copy. I often use a photo as a getting-started guide, but I take care to make sure my final designs reflect my personal design esthetic. Inspiration is good, copying is not. Buying the tile is not the same as buying the design from the artist. Now, back to our regularly scheduled post…
For the leaves, I went back to my Talavera Flourish design (inspired by this design on my water decanter) and borrowed some shapes I had already created. With a bit of editing, they worked just fine.
At this point, I had a flower design and some greenery, so it was a matter of arranging them into a Row that met the requirements of the challenge.
I designed a row that could be painted (my choice) or created with fusible appliqué. I'm the only die-hard painter in my group, and I wanted my friends to have options. For a full size row, this design is 5½ by 35½  inches, perfect for a row that finishes at 6 x 36!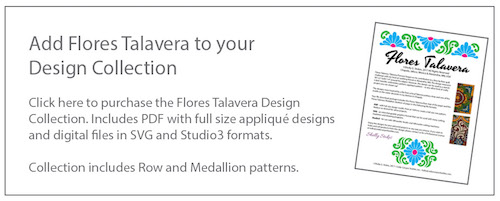 And then the next idea popped up…
If there's anything I've learned, it's that designs are like potato chips – you can't make just one! As I was playing with the design in Silhouette Studio, I wondered how the design would look in a top-to-bottom mirror image.
The result? Pretty cool – except that I needed a full flower rather than two half flowers. Back to the drawing program…
With the full flower complete, I made mirror copies of the greenery and found myself with a lovely medallion. Can you say happy, happy, happy?
Add Flores Talavera to your Design Collection
Now that you know how I got from inspiration to design, let me answer your question before you ask… Yes, you can add Flores Talavera to your personal design collection. The row design was created as a quilt pattern, but it can be turned into a stencil, a t-shirt transfer, or a vinyl decal – and pretty much anything else you can dream up!
Your investment for both designs is just $9.95, and you get the designs in three formats. The printable PDF has the full-size line drawings for fusible appliqué, and you'll get digital files in SVG and Studio3 formats. (SVG files can be imported into drawing and cutting machine programs, and Studio3 can be opened in Silhouette Studio.)
To add Talavera Flowers to your next project, click the button and order away!
Your Turn
How would you use the Flores Talavera design? Fusible applique? Stencil? T-shirt transfer? How about the border of a coffee table? Leave a comment below. I love to hear what you're thinking about!