by Shelly Stokes, Founder and Creative Mentor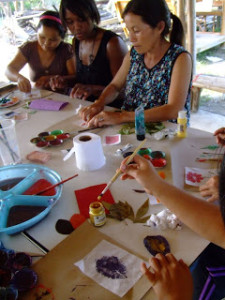 As I think back on the last 5-8 years, I realize that I have badly neglected my personal art. I have done plenty of creative things in service to my business, but not so much pure, creative play that is just for me. have been doing a lot of thinking about how to take better care of my "creative self" in the new year. Things like scheduling regular time in the studio, taking some classes and attending my annual quilting retreat with friends are in my plan. It sounds easy, but I know better. It is not.
Are you nodding your head saying, "Oh yes, I resemble that remark?" Did you resolve to take better care of your creative self in the new year? If not, I invite you to think about it.
Hit The Road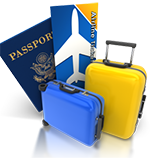 It is important to make time for our art at home, in our studio, or in whatever play space we have available. But I find that retreats and events away from home are the most memorable and creatively nourishing things I do for myself each year.
Getting out of my normal environment is good for me. And as much as I love my quilting friends, it is also good for me to go one step further and spend some time exploring art with people I do not know. These people don't know me, don't know what I have done in the past, and can provide a wealth of ideas that I might not run into if I stay closer to home.
So how do we do this? I am not sure what your answer is, but I am going to splurge and join an Art Travel Adventure with one very creative lady!
Travelogue Mexico with Liz Kettle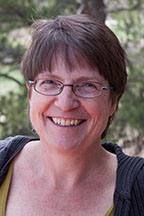 I reconnected with Liz Kettle at Quilt Market in Houston, and we have had a couple of really great conversations since then. As I was browsing through her TextileEvolution website, I saw the registration page for her Travelogue Mexico workshop and said, "YES! This is the one!"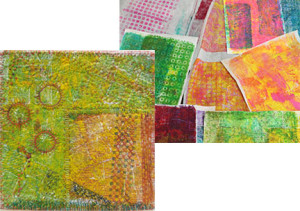 Liz is leading a 5-day mixed-media retreat based at an incredibly beautiful facility that was specifically built for creative retreats. I am very comfortable playing with fabric, but have not spent much time in the paper and mixed media world. So this is a chance for me to explore new things in a beautiful environment.
Better yet, all I have to do is show up. Liz is taking care of all the supplies; all I need is me, my clothes, and a little bit of extra room in my suitcase. And check out this retreat center — it looks fantastic!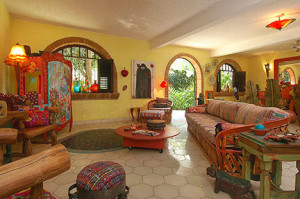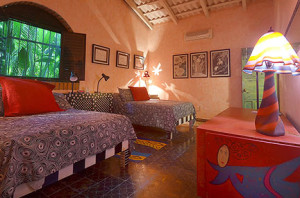 I asked Liz for a short blurb about her retreat that I could share with you. Here is what she said:
Are you longing to be more creative this year?
Have you made a resolution to take better care of yourself?
Wishing for some time to really relax and just BE?
Travelogue Mexico is just what you are looking for! Reconnect with your creative side in this week of relaxation, art exploration and self-discovery at the amazing Hacienda Mosaico private retreat center in beautiful Puerto Vallarta Mexico. The retreat is scheduled for April 13 – 19, 2014.
Join Liz and just 11 other participants for an unforgettable art travel adventure. Each day we will spend some time exploring the area on a mini field trip to soak up the inspiration that surrounds us. The people, landscape, ocean, textures, scents and beauty that catch our eye will become the memories in our travelogue.
This amazing mixed-media workshop is full of creative techniques. It is perfect for the absolute beginner and the more experienced art explorer. You will create a mixed media book that highlights both your learning and the beautiful surroundings of Puerto Vallarta.
…………….
If you want to learn more about Liz's travel adventure, here are some helpful links:
Class Details: http://textileevolution.com/index.php/travelogue-mexico
Liz Kettle: http://textileevolution.com/
Hacienda Mosaico: http://www.haciendamosaico.com/
And just to be clear, I am spreading the word about Liz's workshop for a totally selfish reason. I am signed up to go, and I want to make sure this workshop fills up! Besides, it would be a lovely way for us to meet. What could be better?
What's Your Indulgence for 2014?
I know that it is not possible for everyone to hop on a flight to Mexico for an art retreat. But there are opportunities all around you much closer to home.
Do you have a special plan to take better care of your creative self this year? Did you make an artful resolution? Do tell! Leave a comment below or click over to our Facebook page. I will see you there!