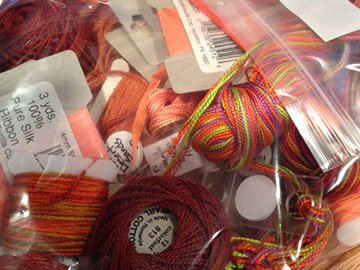 When I started my Shape Shifter stitching project, I visited with a friend who has a pretty impressive collection of threads, ribbons and needlework goodies, yum! She was helping me choose threads from my own collection and to find some more threads that would work for my project.
Looking through her collection, however, took a while. All the materials were sorted by type (pearl cotton, DMC floss, threads from Laura Wasilowski, silk ribbon) and stored in different containers. While I found it rather entertaining to see collection on collection come out of the storage drawers, my friend had a different reaction.
Fast forward a week or so to my second visit. I stitched while Deb made progress on a quilt. While we were talking, she confided that she had pulled out all of her needle work collections and sorted everything by color. I was curious and asked her why she made the change.
She chuckled and said that she realized how much space was being consumed by all the neat, tidy, plastic boxes and bins. She declared how much easier it would be to find just the right embellishment if it were sorted differently.
Think about it, don't you tend to forget about your treasures if they are tucked away carefully; and you don't SEE them when you need them? It happens to me all the time!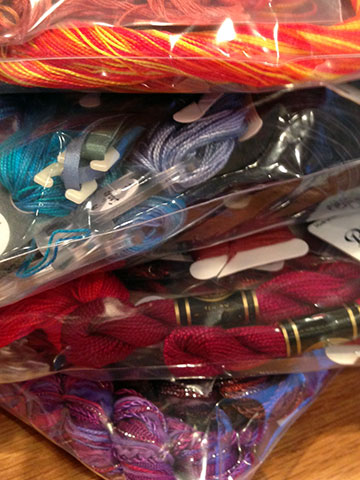 Here's what her collection looks like now. Everything is sorted by color family and stored in quart size zip bags. Need something blue? Head straight for the BLUE bag, easy!
Sorting by color also provides an unexpected bonus – more space! Face it, threads, ribbons and floss really don't have to take up tons of precious space. So, why not sort by color instead?
I'll add one tip here. I know that storing stuff in plastic bags may not be the best solution, but I'm not convinced it's any worse than storing in plastic bins. I would use a paper punch to put some holes in the bags. This allows for ventilation, and it allows the air to escape when the bags are stacked.
What's Your Solution?
Got a favorite way to store your stitching goodies? Post a picture over on Facebook. It's great fun to see what's going on in your studio.