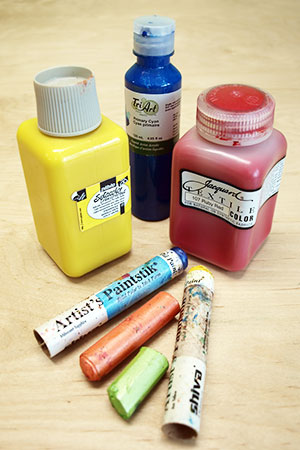 When I get the same question from at least 3 people, I feel like someone is sending me a V8 Moment – you know, that whack on the side of the head. That's my cue to write a quick note to everyone in the community. After all, it must be important!
Last week, Gail M wrote in and asked about combining Paintstik colors and Setacolor textile paints. I'm not sure if Gail was #3 or #4 to ask a similar question, but I consider myself "whacked." Here's what you need to know about mixing oil-based paints and water-based paints.
The Golden Rule Is "Oils Over Acrylics"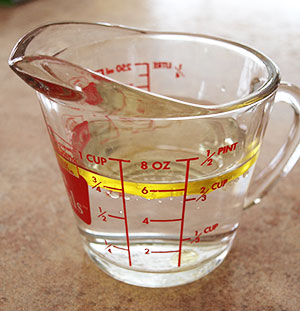 If you plan to combine oil paints and water-based paints (acrylics), always follow the Golden Rule: Oils Over Acrylics. If you ever have trouble remembering this, just go to the kitchen, add both water and oil to a measuring cup. See? Oil Over Water. Here's why:
Oil paints will adhere to acrylic paints as it dries. Just as painters use acrylic primers to prepare a canvas, you can add Paintstik colors over the top of fabric that has been painted with acrylic (or water-based) paints. Once the Paintstik color is completely dry, there is no worry that it will wash away from the acrylic paint underneath.
Now, let's flip that around for just a moment. Adding acrylic paint over the top of oil paints can be a problem. When oil paints dry, they leave a film that acrylic paints can't adhere to properly. It may appear that the water-based paint has dried over the top, but it's most likely not a permanent bond.
Exception: Paintstik Colors As A Resist
Paintstiks are made from oil and wax. They make a wonderful resist on paper for all water-based products, especially inks. Better yet for us fabric lovers, Paintstik colors can be used as a resist on fabric as well.
If you want to use Paintstik colors as a resist on fabric, apply the color, allow it to dry completely; then heat to set the colors. At that point, you can drop the fabric into a dye bucket, just as you would a plain piece of white fabric. What fun!
If you are not into fabric dying, try painting over the top with a really thin textile paint like Jacquard's Dye-na-flow. Remember, while it may appear that the liquid paint has covered the paintstik colors, it will most likely ball up on the surface or wash away later if the fabric is washed.
Have fun, and always remember, Oil Over Acrylic. Unless, of course, you flip the rule on purpose.