Monday was one of those days when 15 different people wanted my attention – and not nearly enough time to take care of them all. I finally called a timeout, grabbed a few paintstik colors that I wanted to experiment with, and set a timer for 45 minutes. (That's how long I could paint and still make it to the next meeting on time.)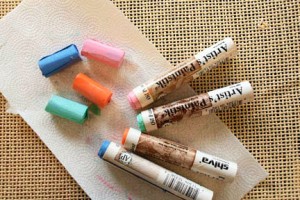 I chose the 4 Luscious Light paintstik colors (Medium Pink, Light Green, Peach and Periwinkle), a wonderful piece of woven grass paper that was a gift from my demo day at the Wet Paint store, and a handful of black fabric. I wanted to see how many ways I could come up with a piece of border fabric for a quilt that used these colors. The timer was running, so I had to work fast.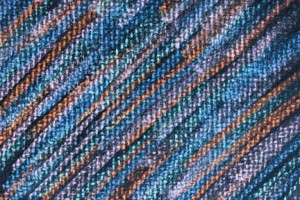 First up, something really easy. I put the black fabric over the grass paper and made a bunch of diagonal lines using the end of the paintstiks. This would be great fun for an accent border or binding. Onward.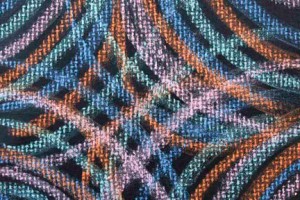 Next, I used a series of curved lines. I used the end of the paintstik and just kept adding curves. I'm not sure I would use it just like this, but I liked the curved chevrons that were forming over on the right side of this piece. Fodder for another play day…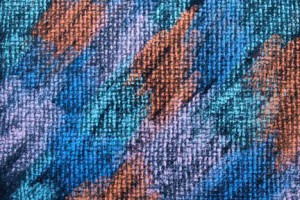 My 3rd attempt was using the 4 colors to make a color-block effect. The clock was ticking, so I grabbed another piece of fabric.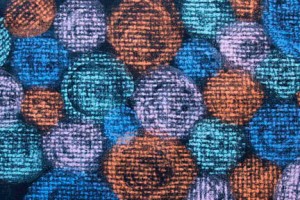 Number 4 was a simple series of circles. I have a friend who always finds a way to put dots in her projects, so I thought I should make some. Totally free-hand, but it could be useful in the right place.
I was running out of quick ideas for using the end of my paintstik, so I decided it was time to cut a chunk off each stick and use the side. I was getting close to my deadline, but I thought I could squeeze in one or two more before I had to wash up and jump in the car.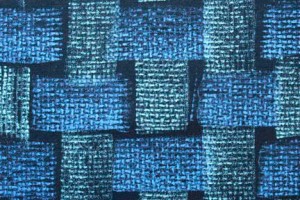 I love basket weave designs, so I made a quick attempt at making my own. It was far from perfect, but I like the effect. The size of the "weave" can be altered by cutting a longer or shorter chunk from the paintstik, and I like the texture from the grass paper.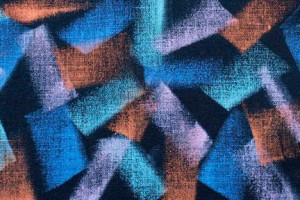 For my last attempt, I put the grass paper aside, put my fabric directly on my Grip-n-Grip mat, and simply used the side of each paintstik to make random "smudges" on the fabric. I don't know about you, but I like this effect. I can alter the amount of black in the background very easily and make the smudges as random (or as planned) as I want. Pretty cool.
My timer started beeping at me, so I pulled myself away, shut the computer down, and went off to yet another meeting with my house contractor. I had more than a few items that didn't get checked off my to-do list, but I left my office a lot happier. And that's a very good thing!
Luscious Lights and Naturally Neutral Colors
I chose to experiment with the Light colors for two reasons. First, they are a part of the Matte Color line that we haven't talked about yet. And second, these 4 colors all have a strong dose of Titanium White in the recipe, which makes them very opaque.

On light fabric, I think of these colors as the "Easter egg" pastels, but they show up equally well on black fabric, thanks to the fact that they are so opaque. They are definitely a nice addition to your paintstik toolbox.
There are two additional "light" colors – Titanium White and Antique White. I debated about whether they were "light" colors or "neutral" colors when I sorted all the colors into groups. The neutrals won because I thought black and white had to go in the same group.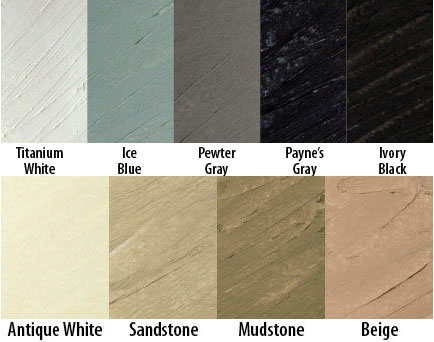 Since I'm not at all sure how I would do any experiments to feature the neutral colors, I thought I would show both sets here. If you want to complete your Matte Paintstik collection, you can find the Light and Neutral colors here:
Click here for our Luscious Light colors.
Click here for the Naturally Neutral colors.
Are you new to the matte color line? Click here to see all of our Matte Color sets.