Two weeks ago, I posted the instructions for making Gratitude Folders. (Click here if you missed the article.) I was hoping to see some photos pop up over on our Facebook Page, but so far it has been pretty quiet. You are either being very shy about posting your pics — or you've been totally swamped with your other creative projects. Either way, I hope you are enjoying your "fun" time and finding the joy in simply being creative.
I did get one set of photos in the e-mail. Dian Himes asked if she could make folder with her friends and customers. (Yes! Absolutely yes!) She jumped right in, made two folders, and sent me a couple of quick photos.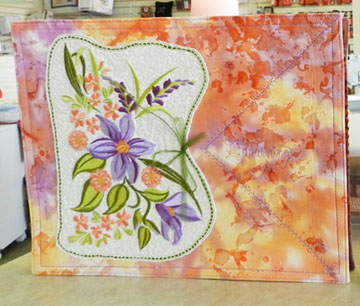 For the first folder, Diane took an orphan embroidery sample and used it to decorate her "Garden" folder.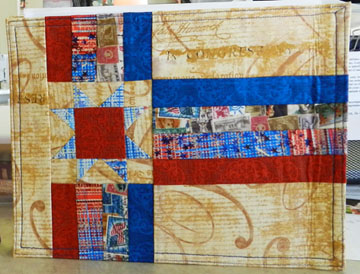 For the second folder, Diane used up bits and pieces from a quilt project. This is the front of the folder…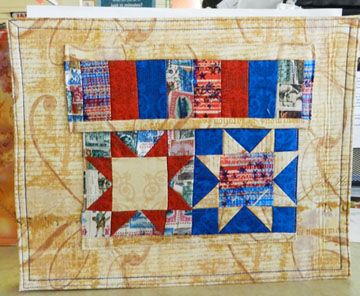 … and this is the back. In her note, Dian said the rest of the scraps went into the lining panels, so they can bee seen inside the folder.
I ran across a bunch of left-over bits and pieces from several quilts when I was searching for something yesterday. With Dian's idea in mind, maybe I'll be able to whittle that pile down just a bit. (That's AFTER I finish up a challenge quilt project for my small quilt group.)
Did you make a folder? I'd love to see it. Post your pictures over on Facebook, or send them to me in the e-mail. It will give me all the more reason to love my in-box!