by Shelly Stokes, Founder and Creative Mentor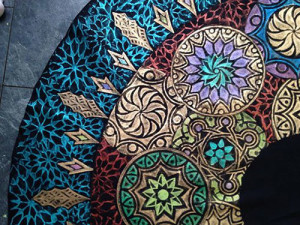 I know, I know… it is only August. It is the middle of summer here in the US. So what are we doing talking about Christmas? Well, I will be the first to admit that it was not my idea.
A couple of weeks ago, Tamara Schultz (Sweden) posted this "Christmas in July" photo over on our FaceBook page. She's getting ready for her fall classes, including a Kaleidoscope Tree Skirt. I loved the idea and was delighted when she was willing to share her idea with our community. Here is the story behind Tamara's project.
Meet Guest Artist Tamara Schultz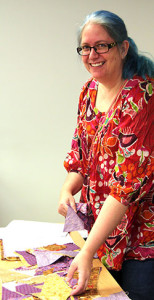 My name is Tamara Schultz and I am a quilt artist and teacher. I have been living in Sweden for the past 11 years. I have been quilting for 25 years and started teaching about 9 years ago.
I read a lot about Paintstiks. When I first tried them about 7 years ago, I fell in love with them. Finding a tool that is so easy to work with and permanent on fabric is a dream come true.
I use the Paintstiks in my personal art quilts, with my Art Quilt Club, and have developed a few classes and workshops. I often use techniques from Shelly at Cedar Canyon and Laura at Laura Murray Designs and work them into my own projects.
This fall, I will teach my new Christmas Tree Skirt class at the Quiltameva shop in Malmö, Sweden. I will also teach Shelly's Sunflower Quilt class at Sweden's national quilt group meeting up in Umeå.
My Christmas tree skirt was inspired by the new Kaleidoscope rubbing plates and Shelly's blog posts about her "overlapping" technique. I cut out a large circle from plain black fabric, blocked off the middle and outer border and did the overlapping technique using Shelly's instructions.
When that was finished, I made rubbings with Laura Murray's new Leaf Medley stamps (her Starbuilder series would also work really well!) which I cut out and appliqued around the edge of the kaleidoscope design. Now I just need to heat set, quilt, add a binding and it is done!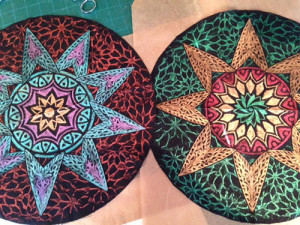 After I finished up the tree skirt, I was inspired to make some coordinating table decorations. The designs around the edges are from one of Laura Murray's Starbuilder stamps.
As I tell my students though, watch out! Working with Painstiks is addictive! Once you start, it is nearly impossible to stop and who would want to?
Resources: