I have to confess that I'm a bit of a tool-aholic. I have more rulers, cutters, paints, brushes and miscellaneous goodies in my work spaces than Heinz has pickles. (My husband has kindly developed a blind eye toward my weakness. I think he figures I could have worse vices…)
With such a great collection of toys, I figure I had two choices. The first was to clean house and give away everything I haven't used in the past year, which would feel pretty good until I started on the next round of collecting.The second option was to look at my existing tools and figure out how many things I could do with each of the tools I already had. Now that was more interesting.
I put a moratorium on purchasing new toys and started playing a little game. (I have no place to put them until we find a new home with studio space anyway!) Now, when I pull out a tool for one thing, I challenge myself to think of another thing I could do with the same tool. Just how many different things can I do with that single tool?
How do YOU use your rubbing plates?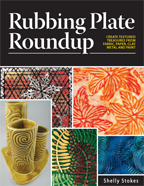 It was exactly this kind of thinking that led to my decision to write Rubbing Plate Roundup, which almost ready for the printer as you read this. I've been designing and manufacturing rubbing plates since 2006, and we've shipped tens of thousands of plates out the door during that time. But one day I woke up and realized that I had never really looked at the rubbing plates as anything but tools for making paintstik rubbings.
It was definitely a V-8 moment. Once I pulled my head out of the proverbial sand, I realized that my rubbing plates can be used as a stamp, as a rubbing plate and as a mold with literally dozens of different materials. Not only that, it was great fun to explore a bunch of new options for tools I already had!
For Rubbing Plate Roundup, I gathered up a dozen of my favorite techniques for using the rubbing plates. Many are related to fabric, but I also played with paints, metals and clay as I worked on the book. Frankly, I haven't had this much fun in years.
I know that many of you are waiting impatiently for your autographed copy of Rubbing Plate Roundup. We were scheduled to ship by the end of November, but it's going to take a week or two longer. My well-planned schedule got pushed to the side when our little buddy O'Keefe decided his time was up. I'm working hard to get things wrapped up, so please be patient.
While you're waiting, I'll give you a sneak peek at a photo from the book. If you're familiar with our rubbing plates, you'll recognize images from Garden Flowers (the big lily), Floral Fantasy (the plates printed in violet and yellow) and Leaves (the fern). This was my first attempt at printing a large composite image with gelatin prints, and I'm thrilled with the results. I'll give you all the details on gelatin prints and rubbing plates in just a few weeks when the book is finally done!
If you have not yet pre-ordered your copy of Rubbing Plate Roundup, you can place your order here. When you pre-order the book, you'll receive a personally signed copy of the book, 2 free rubbing plates and VIP Priority Shipping (which puts you at the front of the line to get your book!)
I Can Do That With A Stencil Brush?
In keeping with the theme of using tools for more than one purpose, I'd like to share a recent article from Laura Murray. Laura is a wonderfully talented quilter and fiber artist who teaches and sells her amazing goodies in the vendor malls at large quilting and sewing shows. In a newsletter this summer, Laura shared some excellent tips for getting really great mileage out of a stencils brush and a couple of paintstiks.
In her article, Laura describes how to use a standard stencil brush to change the color of a background, add subtle texture with a rubbing plate and to mimic the look of hand dyed fabric – all without leaving the house, and using the couple of tools you already have! What's not to like about that? Here's the beginning of Laura's article. You can click over to read the remainder of the article on her site. Be sure to check out the very cool toys on her site while you are there. Laura does remarkable things with paintstiks and unmounted stamps that only look complicated. Enjoy!
The Versatile Stencil Brush, by Laura Murray
I enjoy both gardening and textile art because both mediums give me the opportunity to play with colors, shapes and textures. Each medium has its own challenges, and the creative process is a series of problem solving challenges. In our household of two, my role is garden designer, pruner, and weeder. Husband Jim's role includes general repairs of all kinds, and the heavy lifting. The wood fence which serves as the backdrop for our garden has deteriorated significantly, so Jim is now applying his talents to designing and building a replacement, which is a great improvement over the old fence. Whether the design is about my garden, a quilt or a garment, my approach is to always begin with a beautiful focal point, then choose supportive and complimentary backgrounds.
Obtaining just the right color and texture for coordination with focal fabrics can become a frustrating challenge. Just as the gardener needs tools, we need tools for textile art. One of my favorite tools is the stencil brush, which helps me easily create the perfect fabric for my projects, avoiding the need for desperate dashes to the fabric store or dyeing more yardage.
Beyond Brush Stenciling
Naturally, the brush is great for stenciling, but there are several other applications which do not require a stencil. Have you ever been underway on a project, and couldn't find the "perfect" fabric for the border or binding, coordinating fabric for a garment, or felt that certain sections of a quilt design just weren't right? Stencil Brushes can be used to alter the color of a fabric, add subtle texture or mimic hand dyed fabric — all without the use of a stencil.
Change Background Color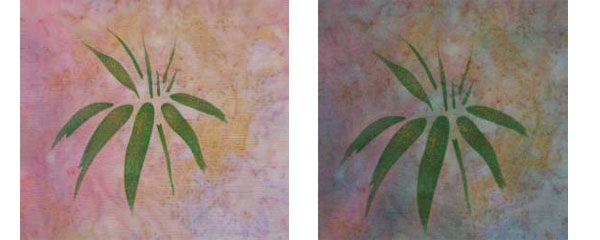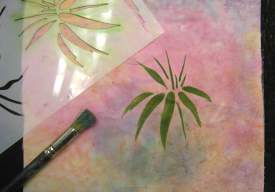 Here's how: The bamboo leaves were stenciled on a pink/orange batik with a paintstik stencil brush, but I wanted more blue in the background. I applied iridescent turquoise paint to my standard stencil brush and brushed directly over the entire fabric (including the stencil leaves) in a circular motion. Larger brushes work best, either 1/2″ or 5/8″ size. This process turned the background shades of blue and minimized the pink. The technique is similar to applying eyeshadow — just build up layers until you get the right effect.
Click here to read the rest of the article.
Visit Laura's website at www.lauramurraydesigns.com.