If you love to make fabric art with kids – or for kids, you'll love our new Forest Friends Collection!
I had the good fortune to meet Alyssa Thomas  of Penguin & Fish a couple of years ago on a flight home from Quilt Market. We had a great chat and Alyssa gave me her business card. Fortunately, I had the good sense to check out her website — and I was totally enthralled with the animals in her 'alphabet' embroidery patterns.
As I started to plan for new rubbing plates and stencils earlier this year, I decided it was time to take the plunge and try out some children's theme products. Since I don't have a lot of children in my life, I called Alyssa and we set out to borrow a few of the delightful critters from her embroidery patterns and turn them into rubbing plates and stencils.
When Alyssa's designs came in, I was beyond thrilled with the results. Her little animals are cute as a button and make me smile every time I look at them. So without further delay, let's meet our Forest Friends. I have pet names for them, but you're more than welcome to choose your own!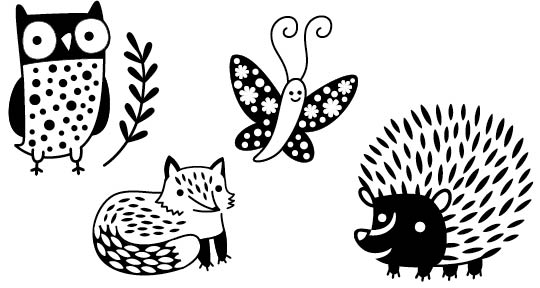 These are the 4 large animals from the Rubbing Plate set. I've named them Oliver, Foxy, Bonita and Henrietta. You, of course, are welcome to choose your own names — but you may want to leave that in the hands of your kids and grandkids!

A number of you have asked about smaller designs, so we added a set of 'minis' to this set of rubbing plates that feature 4 small portraits outlined with stitching. I made sure that we have enough room between the images in the final designs that you'll be able to cut this set of plates apart and work with 4 little plates that are less than 3″ square.
So, where do our Forest Friends live? I'm happy to say that Alyssa created a fun little collection of fanciful forest leaves so our friends feel right at home. They have their own special forest tucked away here in Cedar Canyon. (You did know that we have fields & forest in Cedar Canyon, didn't you?)
Oh, did I mention that we'll also have a coordinating set of stencils? Yes, these little creatures are just too cute to be confined to rubbing plates! You'll find even more ways to invite our Forest Friends into your projects with a delightful set of stencils. I should have my first set of samples by the time you read the newsletter, so I'll let you know how they look next week.
Until then, I hope you've enjoyed meeting the newest inhabitants here at Cedar Canyon. If our new friends have have lots of fans, we'll add more of Alyssa's darling creatures in the coming year.