Yes, I know it's March and we just got past the Christmas holidays, but we're planning ahead! (Either that or we are waaaayyy behind schedule – I'll let you decide.) All moans and groans aside, I'm really excited about our new Happy Holidays rubbing plates. With designs ranging from snowflakes to holiday lights, ornaments and holly, the designs are festive but not cute. Perfect for a range of holiday projects! Here's a look at my first sample.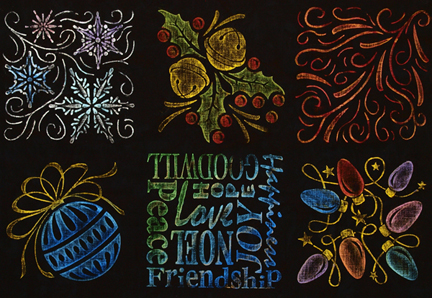 I'm really thrilled with the text plate. I've been wanting to work with words for some time now, but this is the first chance we had to try it out. When I looked at the plate, I really wasn't sure if it was going to work. But once I got the paint out – well let's just say I'm totally convinced that text is going to be a lot of fun. I think this is going to make a super all-over pattern for gift bags, placemats, totes – you name it!
With the exception of the text and the holly/bell design, these plates have larger "open" spaces in them. This set will definitely be a challenge unless you adopt Nancy's method for using the side of a paintstik for making rubbings instead of using the end of the stick. If you haven't read them already, go back to read the posts about Better Tools, Better Rubbings and Better Rubbings (part 2) from December. If you use a Grip-n-Grip mat, the 404 spray, the side of your paintstik (and a little practice…) you really can get fabulous results with minimal instances of oops!
And speaking of oops… in my next post I'll share a couple of more tips for working with rubbings – how to fix some of the "oops" and working with more than one color.
One more thing – before I forget – the Happy Holidays plates will be shipping to retailers by the middle of April.
Happy painting!
~ Shelly