by Shelly Stokes, Founder and Creative Mentor

As I walked around the vendor mall at Quilt Festival, I realized just how long I've been working in the quilting industry. I rarely look twice at fabric, I have a lifetime supply of notions and tools, and I may never buy another pattern in my life. (Books? That's different. A girl can never have too many books…)
At any rate, I found myself on the lookout for things that were different. After the 2nd day, I figured out that everything that caught my attention was hand made — and often came with an interesting story that could be easily tracked back to the people who made the items.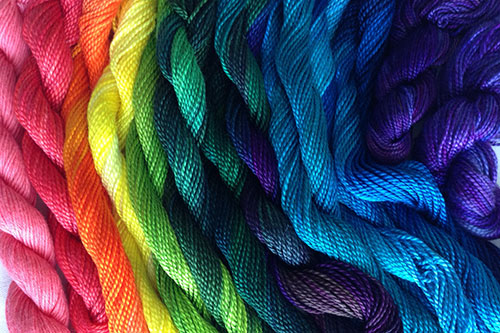 My first stop was the ArtFabrik booth, to shop for thread. I wanted a few colors Laura Wasilowski's size 5 pearl cotton for my project. Not to mention that several of my friends at home sent a list with me.
I can't count the number of times people have said, "You could dye your own thread." Yes, I was a fabric dyer for 7 years before Paintstiks took over my life. And yes, I could dye my own threads. But why would I want to do that when someone as talented as Laura is already doing it so beautifully? I would much rather be stitching than puttering around learning to dye thread.
While I purchase most of my threads from ArtFabrik, I filled in with a few colors from other vendors. I think I have all the thread I need to finish up the big project. (Woohoo!)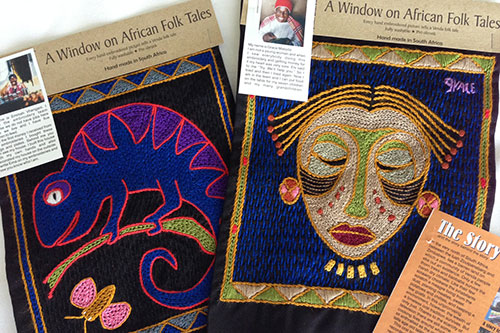 The most exciting thing I found at Festival were these hand-stitched embroideries from South Africa. These lovely treasures are made by women of the Venda tribe who live in a barren part of the country near the border with Zimbabwe. Each piece of embroidery includes the folk tale that explains the significance of the images and a photo of the woman who created it.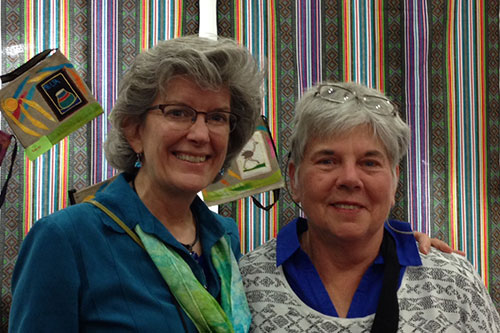 I had a long conversation with Ina le Roux about how the embroidery project started. It is too long — and far too interesting — for a short blog post, so I will share that with you in a future article. In the mean time, you can read the story for yourself at the Tambani site.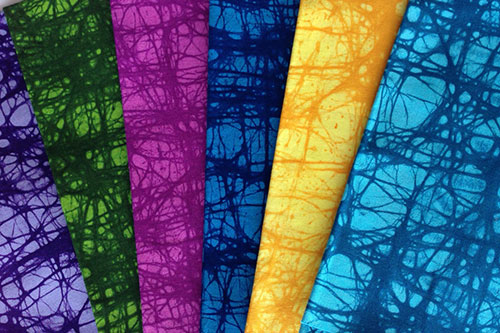 Lest you think I made it all the way though Quilt Festival without buying a piece of fabric, have no fear. During the last hour of Festival, one of the ladies from the SAQA booth invited me to come with her to the Turtle Hand Batik booth. I did not remember stopping to look a the fabric and I was intrigued by the fact that so many of the SAQA members present insisted that I go see it. (SAQA — Studio Art Quilt Associates).
Yikes! Fabric with a story. It turns out that Turtle Hand Batiks are made by people in Malaysia. Tina Hilton works with various artisans in the country to produce small batch batik and hand dyed fabric.
I was intrigued by Tina's stories. She has struggled at times to find artisans who were willing to create 2-meter pieces of fabric with one overall pattern like these beautiful Fractured Batiks. Traditionally, a specific pattern would be limited to one section of a batik panel — it would never be printed on a whole length of cloth. Thankfully, her persistence has paid off. Tina has found families to produce beautiful patterns that are well-loved by her quilting customers — and provide a good, living wage to the families that produce them.
I enjoyed my trip to Quilt Festival immensely. Both my time looking at the magnificent quilts and browsing through the vendor hall were great fun. It's a pleasure to meet the artisans who were present at the show – and to support the businesses who, in turn, support the hand-made traditions around the world.