I've got 15 deadlines to deal with this week, so in place of our regular newsletter, I thought I would share a few observations, lessons, and a little humor from my trip to sunny Orlando for the GKIC Next Level Summit for women entrepreneurs.
1. Pack light. After you pile the suitcase with all the clothes you might need for the conference, cocktail parties and your poolside leisure time, put at least half of it back in your closet. You do not need 6 changes of clothes for a 3-day conference. Nor will the conference organizers schedule in time slots for soaking in sunshine or getting a massage.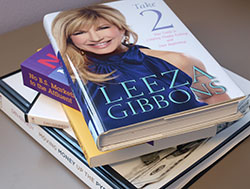 2. Leave room in the suitcase for the books and materials you buy at the event. You will buy something – and it's no fun to haul this stuff around in your carry-on bag.
3. Conference centers are designed by sadistic refrigeration engineers. You will need sweaters — no matter how nice it is outside. So don't skip the sweater in step #1.
4. Double-check your toiletries bag. Your naturally curly hair will not behave in Florida humidity and you will feel like a wild woman for the duration of your trip.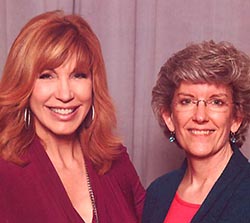 5. Don't dawdle. It's much more fun to have your book signed and grab a quick photo with the incredible Leeza Gibbons if you are at the front of the line! By the way, Leeza is as beautiful on the inside as she is on the outside – and you should absolutely grab any chance to listen to her in person.
6. Take good notes – and then actually go back and read them. When Dan Kennedy says "this is a real writer-downer," you know it's going to be good. He'll probably shoot me for saying this, but Dan is capable of speaking to a room full of talented and successful women without totally offending everyone in the first 2 minutes – believe it or not!
7. Pack your own peanuts. Delays happen, and the airlines will not add a meal to your flight, even if you are sitting in first-class.
8. Be nice. Especially to the teen that gives you the ultimate complement of thinking that you just might have an iPhone 5 charger they could borrow while everyone is bored to tears waiting for news that your flight will be allowed to take off.
9. Speak up for yourself. When you hear that your airport shuttle is going to be packed to the gills, smile nicely and volunteer to "ride shotgun" – especially for a 3-hour drive in a snow storm. At least you won't feel like a sardine.
10. Tip well – and call the tow truck. When your fearless shuttle driver delivers you safely to your door before the plow truck has cleared your street, then promptly gets stuck trying to back out of your driveway, call the tow truck. And be extra nice to the tow truck operator when you call at 1 in the morning. He's been pulling cars out of ditches all day, he'd rather be sleeping, and his wife is ready to smash his cell phone.
I'm glad to be home in spite of the snow. And ever so thankful for the incredible pilots, drivers and hotel staff who take such good care of us along the way. They are simply the best.