Rain drops on roses and whiskers on kittens
Bright shiny Paintstiks with stencils and brushes
Silky black sticky mats fresh from the sleeve
These are a few of my favorite things!
I'm dating myself here, but The Sound of Music is still one of my favorite musicals, and I can still hear Julie Andrews singing about brown paper packages tied up with string. Speaking of favorite things, I want to answer a question about one of MY very favorite things — a Grip-n-Grip mat from Bear Thread Designs.
Bunny Hand sent me a question after reading my special e-mail series on various fabric paints. She said her Grip-n-Grip mat is not as "grippy" as it used to be and wondered how she could get it back into shape. Let me tell you a quick story about the mats and then answer Bunny's question.

Once Upon A Time…
…back in 2005 I introduced my Paintstiks on Fabric book at the Minnesota Quilt Show & Conference. I was signing books and doing demonstrations non-stop when a wonderful little lady showed up in my booth, caught my attention and announced "you need a grippy mat!"
The first thing out of my mouth was "I need a WHAT?" Fortunately for all of us, this little lady was persistent. She insisted that I take a break and come to her booth to learn about this "grippy mat" that she just knew that I needed. That was my introduction to Veronica Cox and her Grip-n-Grip mat.
To say she was right would be the understatement of the decade. It took me all of 2 minutes to figure out that Grip-n-Grip mats were the best thing since sliced bread for anyone working with paintstiks.
Are your rubbing plates sliding around on your work surface? Put them on a Grip-n-Grip mat and they stay put! Does your fabric shift as you stencil images with a brush? Put the fabric on a Grip-n-Grip mat and no more slipping and sliding. The darn things are incredible!
The only downside to a sticky mat is that everything wants to stick to it. And I mean everything. Lint, dust, cat hair — it all wants to stick to a grippy mat. And once it gets dirty, it's just not very "grippy" any more — and that brings us back to Bunny's question — how to clean the mats.
How to Clean Your Grip-n-Grip Mat
I have found several ways to clean these wonderful sticky mats and restore them back to brand "grippy" new. It just depends on where I am and what I have on hand.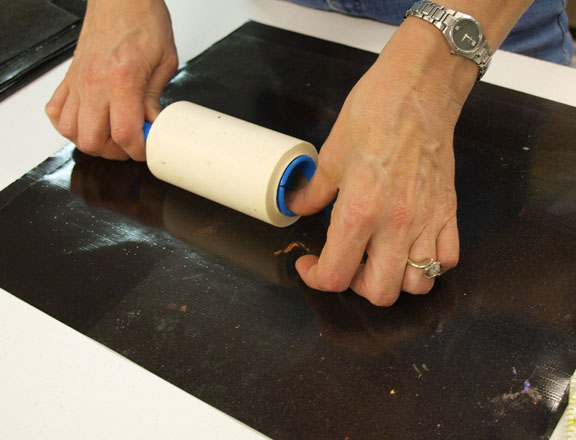 Option 1: If I have a masking tape lint roller handy, I use it like a rolling pin putting pressure on both ends as I roll over the mat. The roller picks up the crud and my mat is restored to its original grippy state. I like using the roller because it will pick up lint, dirt — even paint off my mat. (And I can carry a lint roller in my suitcase for quilt market without having it confiscated by our TSA friends…)
Option 2: In a pinch, I've found that a good scrubbing with a damp lint-free cloth will remove quite a bit of the crud. Lint-free is the operative word here. Don't even think about using a paper towel!
Option 3: When all else fails, follow Veronica's instructions and clean the mat with rubbing alcohol. Her specific instructions state "Sheet may be cleaned with a sponge and alcohol if necessary. Do not submerge, just wipe with damp sponge." I don't keep alcohol around the office or in my art supplies (and I can't take it on a plane), so I usually opt for the first 2 methods to clean my mats. But, I got a note back from Bunny this morning and she reported that the alcohol works great. And that's good to know.
If you have one of these mats and actually use it, there's no question that a good cleaning will be necessary from time to time. Chose your method, clean up your mat, and restore it to its original "grippy" glory!
If you don't yet own one of these mats… well, what are you waiting for? Get one at your favorite local retailer or click over to our Online Store. I can just about guarantee that a Grip-n-Grip mat will be one of your favorite things too!