by Shelly Stokes, Founder and Creative Mentor

Thanksgiving is probably the most widely celebrated holiday here in the US. It is a time to gather with family and friends and simply be grateful for the blessings in our life.
But Thanksgiving is also the kickoff to the end-of-year holiday season that lasts right up through New Year's Day. I'm not sure what the holidays look like in your house, but I always feel like I am trying to cram six months worth of lunches, visits, office parties and more into five short weeks. That can be overwhelming for the most sociable person out there, let alone those of us who prefer life on the quieter side.
Three Scoops of Gratitude Topped with One Deep Breath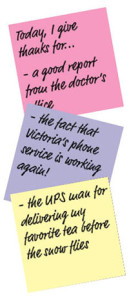 You know the saying about "an apple a day keeps the doctor at bay," right? For now, let's skip the apples and dive right into a recipe for soothing our rattled nerves: Three scoops of Gratitude, topped with One Deep Breath.
Gratitude? Yes, gratitude is the main ingredient in this tasty treat. When you are feeling frazzled, slow down for a minute and think of three things you appreciate. Better yet, write them down.
It can be big things, like your sister getting the "all clear for now" from her oncologist or your son's finished tour in the military and home for the holiday.
Or it can be little things, like a phone call with a friend or the neighbor that picked up the kids at school so you could get packages to the post office. It could even be the smile from the next person in line a the grocery store.
While you make your list, be sure to breathe, both in and out. I know that sounds blindingly obvious, but we humans have a very bad habit of holding our breath, especially when we are fearful, anxious or overwhelmed.
Why this combination of gratitude and breathing? Because it works. It is not possible to be anxious and appreciative at the same time. Nor is it possible to be frozen in fear and overwhelmed while you are actually breathing. (And if you do not believe me, pay attention the next time you are feeling frazzled — are you actually breathing?)
Keep A Gratitude Journal
Gratitude is truly the gift that keeps on giving, and I invite you to indulge in our Gratitude Dessert every day of the year. The easiest way to do this is to keep a journal. It does not have to be anything fancy, just a place to record a few appreciations each day.
Make a Gratitude Folder
And while we are talking about gratitude, remember that others appreciate you. Yes, you! A second great practice is to save all the thank you notes, cards and notes that come your way. Tuck them away in a special box or folder so you can read through them when you are having a down day.  Knowing that you are appreciated is every bit as good for you as appreciating others.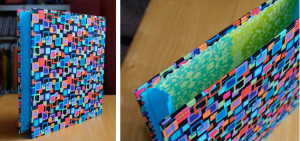 If you don't have a place to save those precious notes, you can make one in short order. Here is a link to a tutorial I posted a while back for making fabric folders.
I hope you enjoy the holidays and indulge in a Gratitude Sundae each and every day. Treat yourself to three heaping helpings of appreciation — and don't forget to top it off with a deep breath. Enjoy!
I invite you to share what your techniques are for gratitude below.