I don't have grandchildren, but many of my friends do — and I just love to see what they come up with when they are on "grandma duty." Linda Huebner of Kensington, MN has a couple of beautiful granddaughters who just love spending time with their ever-so-creative grandmother. Linda calls her time with the girls Grandma Camp. So this month, our guest artists are Maren (age 7) and Clare (age 10).
During their Grandma Camp session in September, Maren and Clare dug into the paintstiks for a delightful morning of fun. Linda had purchased some pre-printed t-shirts from The Cedar Rapids Museum of Art and the girls set out to color them in with the paints. Here they are hard at work. (And I see that Grandma had them attired in proper painting clothes so they didn't decorate their clothes…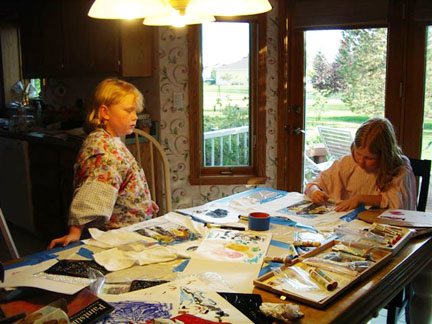 I think the t-shirts are quite lovely. Maren and Clare did a remarkable job of blending  a few colors as they colored in the faces. That was their one big request for the paint company — they would like a good "flesh" color. Here are the t-shirts finished.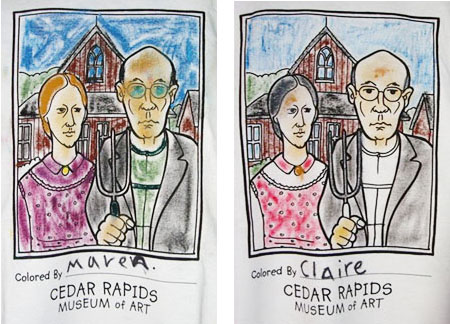 Don't you just love those sunglasses? Here are our lovely artists with their shirts. I sure hope Grandma fed them breakfast before she brought out the paints — it looks like they had a busy morning!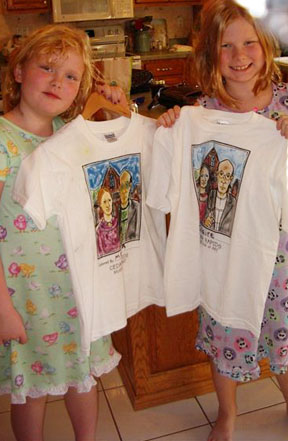 If you (or your grandchildren) have paintstik projects that you would like to share, send us a few pictures along with the story and you may find them here on the blog.