by Shelly Stokes, Founder and Creative Mentor

Do you ever stop to think about where the products you buy come from and who actually made them? Not just what country they came from, but the actual living, breathing people who made them for you?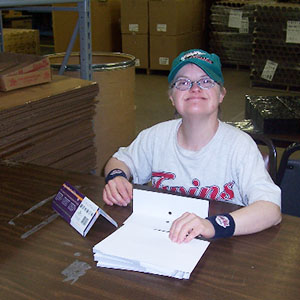 Here's your chance. As this message hits your inbox, the Kaleidoscope rubbing plates are in a truck heading for our packaging service. While we wait, I want to introduce you to the team of people and companies who make these beautiful plates — just for you.
Tag-Team Design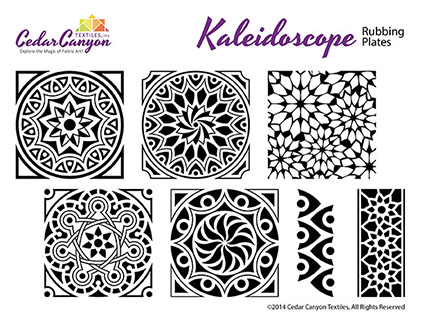 While I am the primary "designer" of the Kaleidoscope plates, they wouldn't make it into production without my tag-team design partner, Matthew Mills. (You can read a post about our design process here.) Matthew is the guy who transforms my doodles into computerized drawings, helps me refine the designs, and puts everything in the right format for the manufacturers. And he does it in record time.
Rubbing Plate Production
For every product you purchase, there is a team of people doing production somewhere in the world. My team happens to be just a few miles down the road in Brainerd, MN.
In 2006, I was looking for a thermoforming company to make rubbing plates, but getting nowhere fast with most of the companies I contacted. I was absolutely thrilled when I spoke with Rob at Lindar Corp. He listened to my description of a rubbing plate and realized it was similar to the textured part of the paint-tray liners they produce, and had the good sense to say, "Yes. We can do that!"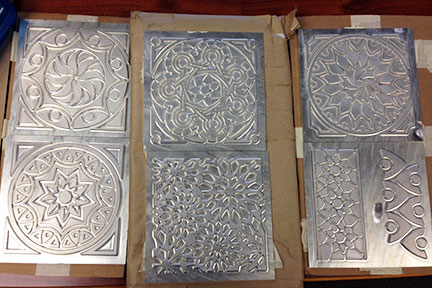 Rob and the engineering team have patiently taught me what I needed to know about the production process, how the molds are made, and what we need to build into our designs to make the best possible rubbing plate.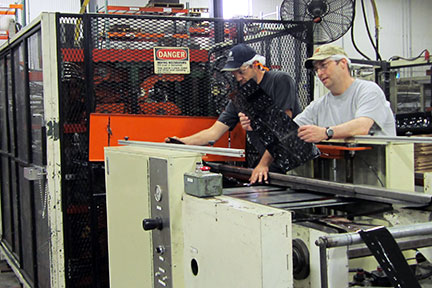 Better yet, they care about getting things right. While many companies don't want to deal with anyone making runs smaller than 50,000 parts, the folks at Lindar understand that small customers can become big customers — and that small jobs keep their staff working just as well as big jobs.
Make it Pretty
One of the biggest challenges with a product is to show "what is in it for me" to the person standing in the store. For rubbing plates, this job falls to the header cards at the top of the package.
As the chief marketer for Cedar Canyon, it is my job to make the header card as helpful as possible as I won't be standing in the aisles of your local shop to explain it to you in person.

I put the concepts together, Matthew does the technical art work, then we send the files off to Range Printing, also in Brainerd, MN.
Can I just say that I love this company? The folks at Range have been doing the bulk of my printing since 2006. If I added it all up, I would have to say they have printed more than 30,000 books, tens of thousands of patterns, a zillion catalogs and countless other jobs for me over the past 8 years. They even deliver! Bob Pederson, my long-time print rep brought the beautiful new header cards to Alexandria on Monday. And for a change, he let me buy lunch.
Pack it Up
I appreciate all of the people I work with, but the people nearest to my heart are the wonderful people at the Alexandria Opportunities Center. AOC is a workplace for people with challenges ranging from Down's Syndrome to brain injuries and other problems that keep them out of the normal workplace environment. They may have disabilities (a word I dislike), but they love to work!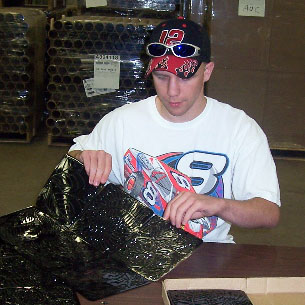 Truly, if you want to see a room full of the happiest workers on earth, visit a place that employs people with challenges and disabilities. (If you run a business, send them all the work you can!) No matter how simple or repetitive the job, it will get done quickly, efficiently and affordably — and provide the workers the opportunity to participate in "real work" they can be proud of.
From Minnesota — To You!
Finally, the team at Range Fulfillment pulls your order, boxes it up, and gets it out the door and on its way to you. I was thrilled when my friends at Range Printing added a fulfillment operation to their business as it allowed me to work with a company "big enough to do the job and small enough to care."
Aubrey Niccum and her team at the warehouse are amazing. As my (former Marine) husband would say, they run one hell of a tight ship. Even better, they are accessible, responsive and incredibly helpful.
No "I" in TEAM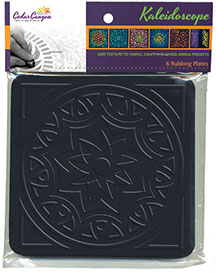 When your new Kaleidoscope rubbing plates arrive at your doorstep, I hope you will pause for just a moment to appreciate all of the people who made the product possible.
Our beautiful plates will say "Cedar Canyon Textiles" on the package, but they are really a Cedar Canyon / Matthew Mills / Lindar / Alex Opportunities Center / Range product. Made especially for you, with much love, here in Minnesota. Enjoy!