by Shelly Stokes, Founder and Creative Mentor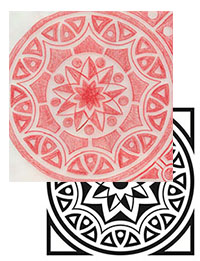 With the new Kaleidoscope Rubbing Plates ready to burst on the scene in June, I thought you might like a backstage look at the process for bringing these babies into the world.
Like many other creative efforts, the designs begin as ideas that eventually find their way out of my brain and onto a piece of paper. At that point, I enlist Matthew Mills, one of my longest-serving team members to give me a hand.
Matthew is an amazing graphic artist — and he is incredibly good at turning my doodles into Illustrator drawings — and making them better in the process. It is very much a back and forth process. Here is how one of the Kaleidoscope plates evolved.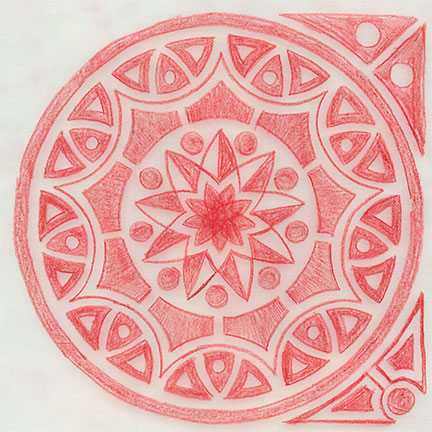 There is actually a lot that happens before a design reaches the "doodle" stage. I generally start with a theme and spend a lot of time looking through images. (Google is definitely my friend!) Once the concept gels, it is time to get the first cut at the designs down on paper.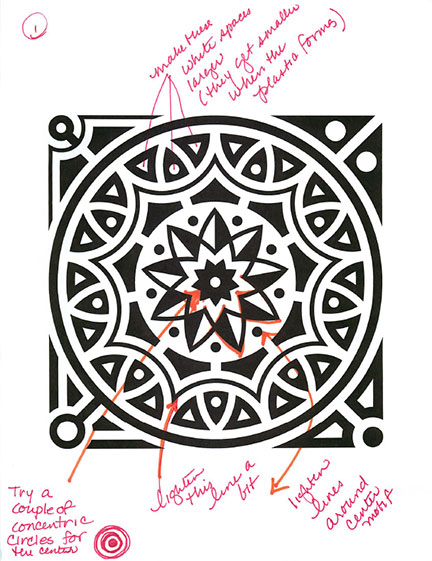 Matthew takes the doodles and sends me the first iteration of the design. Then I get my handy red pen out and send back the first set of changes.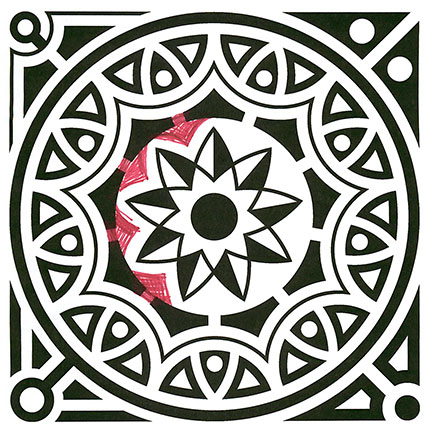 Rubbing plates have an interesting set of design constraints. The "white space" has to be large enough to keep the design elements from bleeding together, but small enough to keep make them easy to use. And the fuss-factor must be kept to a minimum.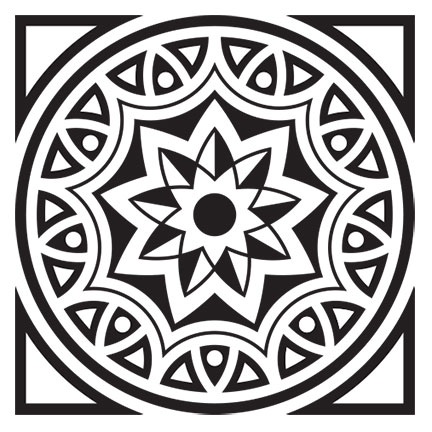 Eventually, we get to the point where I am confident that the design will work after the plastic forms on the mold. Then I say a prayer and send the designs off to the manufacturer. And hold my breath while I wait…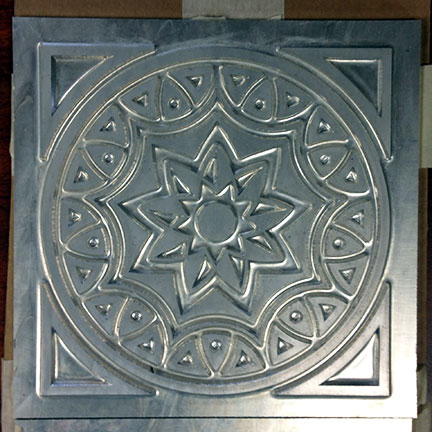 It takes a week or so for the metal molds to arrive at the manufacturing site — I LOVE getting that phone call! I hop in my car and take a day trip to Brainerd, about two hours from home.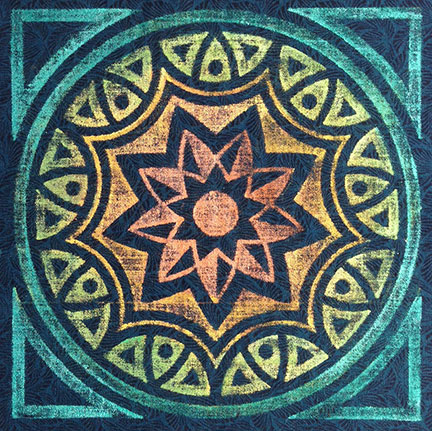 The acid test for the plates is to do an actual paintstik rubbing on fabric. The staff at the manufacturing company always get a chuckle when I arrive with my tote full of fabric and Paintstiks. But the guys in the tooling lab do not even want to think about drilling all of the tiny air-holes in the molds until they are sure I am happy with the molds.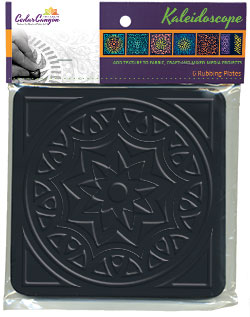 Soon, very soon, packages of these lovely rubbing plates will be available in your local shops and in our Online Store. I am cooking up a special offer that will include the Kaleidoscope plates. I will send it your way as soon as we have the ordering details worked out.
(In case you are wondering, this photo is more of Matthew's magic. We won't actually have the new rubbing plates to put in a package for weeks yet — but here is a product image, all ready to go. Yes, it's magic!)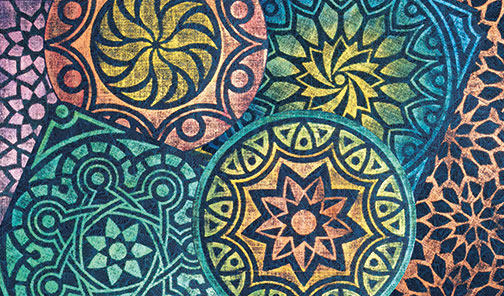 The Kaleidoscope designs are absolutely lovely — and the possibilities are endless. I hope you enjoy using them as much as I have enjoyed designing them for you.
P.S. Speaking of possibilities, Laura Murray is already dreaming up cool ways to use the Kaleidoscope designs with her amazing line of stamps. I will visit her tomorrow and cannot wait to see what she has done with the sample I sent her way!