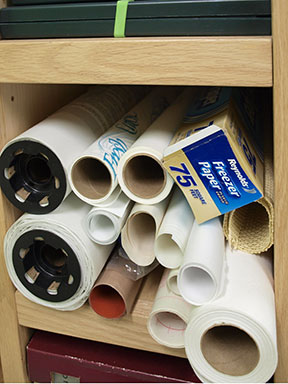 I'm never going to have a career as a professional organizer; but, I have learned a few things about where to store things in my work space. If I use something a lot, it has a home in the center of my room, handy at a moment's notice. If I use something a little, it gets tucked away in the closet, a drawer, or one of the shelves around the edge of the room. (As for those shelves in the storage rooms that need a good cleaning… I'll think about those another day!)
As I was working on my samples for Shape Shifters, I realized that my bin full of paper rolls is as close to the middle of my room as it could possibly get without moving some of the furniture. The roll of paper that I pull out most frequently is Freezer Paper. Yup, that boring looking roll of paper with the plastic coating on one side is on my short list of "Super Tools" that I simply can't live without.
I use a LOT of freezer paper. It's the best thing since sliced bread for making stencils and all kinds of masks and frames. It's far easier to cut than stencil plastic, and surprisingly durable. I wondered just how many times I could use a freezer paper stencil once and decided to test it out. Are you ready? I was able to use it more than 50 times before it simply wouldn't stick to fabric one more time.
And when the freezer paper no longer wants to stick to fabric? Well, spray it with a short blast of sticky spray, allow it to set up completely, and just keep on using it. It's amazing!
Today, as we get ready for the Shape Shifter Fabric Art Adventure party, I want to share a really helpful tidbit about working with Freezer Paper that can make your life easier.
Freezer Paper Shrinks
Believe it or not, freezer paper shrinks. Different brands and weights of the paper shrink at different rates. They all tend to shrink more in one direction than the other. Here are the notes on Freezer Paper from the Get Ready section of my Design Magic book:
The shrinkage in freezer paper may not be noticeable to the eye. The distortion can be just enough to wreak havoc with seam allowances or make it difficult to align the images when you begin stenciling on fabric. Fortunately, there is an easy way to solve this problem.
Preshrink freezer paper before making stencils. (If you plan to print your designs on freezer paper using a computer, preshrink the freezer paper before you send it through the printer.) Always preshrink the freezer paper.
Here is a simple procedure:
Place your freezer paper, shiny side down, on a clean, lint-free ironing surface.
Remove all water from your iron and pre-heat the iron using the Cotton setting.
Press each section of the freezer paper with the iron for 5-10 seconds.
Lift the freezer paper from the ironing surface and then set it back down. Press a second time. (I press twice to make sure I've completely eliminated the shrink factor.
Why Get Excited About Freezer Paper?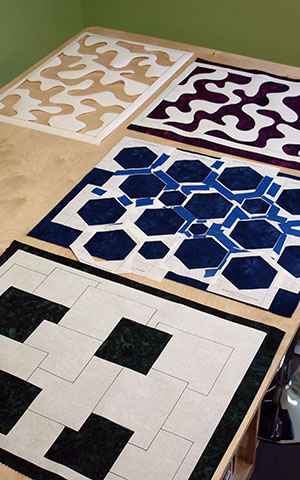 I'm glad you asked. Freezer Paper is the "secret weapon" that makes Shape Shifters so much fun. As we go through the process, we'll be learning all about the super powers of freezer paper and how we can use this wonderful tool to make really incredible fabric.
To borrow a phrase from the Milk industry, "got freezer paper?" If not, you might want to add it to your shopping list. Just so you know, heavy duty paper lasts a little longer than the regular weight, but it all works just fine.
Before I sign off, I want to thank Nancy Kazlauckas and Susan Cleveland for the tip on freezer paper shrinkage. My relationship with freezer paper got a whole lot better once I understood that the darn stuff shrinks.