If you've picked up your copy of the Quilting Arts Gifts issue, you've probably seen our ad featuring a Wreath quilt. (Our ad is right inside the back cover – very easy to find!) I wanted to give a gift to each you this holiday season, so I've posted the instructions for the Wreath Quilt on our Learning Center page. The pattern is listed under Downloadable Lessons and is also posted on the DesignMagic Resources Page.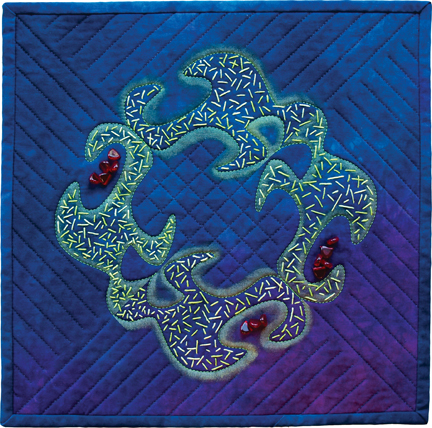 I used the new Iridescent Lime Green to paint the wreath design on a dark background. After allowing the paint to dry overnight, I layered the top with the batting and did some free-form embroidery ala Laura Wasilowski with some of Laura's lovely variegated embroidery thread. The red glass beads were tucked away in my stash of quilt show impulse purchases – and we all have those, right?
Be sure to go back to the last post (Design Magic Wreath Stencils: Full Images or Outlines?) to see how to make the wreath "float" in the center of the quilt. As I worked with the Wreath design, I liked it better turned on point, so I drew the registration lines from corner-to-corner instead of top-to-bottom and side-to-side. It's a simple change, but gives a very different look.
The Wreath pattern download includes a drawing of the Wreath design if you want to make your own stencils from freezer paper. (Compelete instructions are available in the Design Magic for Paintstiks on Fabric book.) The Wreath design is also available in pre-cut mylar stencils. Please ask for them at your favorite paintstik source  or your favorite online resource. You can always contact Dawn's Quilt Shop (my home-town shop) for our newest releases. Dawn and her staff are more than happy to take care of your orders.
I hope you enjoy making the Wreath quilt. It's a fast and fun project for the holidays to dress up your home or to make as a gift. Thank you so much for supporting us here at Cedar Canyon. We are so grateful for each and every one of you!