If you love to decorate for the little people in your life, our Forest Friends will quickly become your best friend!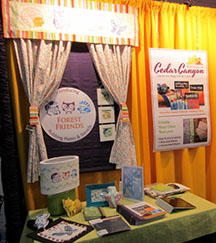 If you've been a member of our community for a while, you probably know (or have guessed) that I don't have children. I have enjoyed watching my friend's children grow up over the years, but I haven't had a lot of little people in my life.
But even I fell in love with Alyssa Thomas' embroidery designs (check out penguinandfish.com) and I just had to add them to our line of rubbing plates and stencils here at Cedar Canyon. I had visions of hedgehogs in a baby's room, or a friendly owl standing guard over a youngster as they slept. I had a great time putting together some home-dec items to display in our booth at Fall Quilt Market.
It's hard to see the valence at the top of the curtains with the lights on, so I hung it up in my studio and took a quick picture.

I had to keep things simple to get everything done before leaving for Houston, so I made rubbings of the 4 large Forest Friends animals on a single white panel. I then added a background in lime green. (I absolutely LOVE lime green!)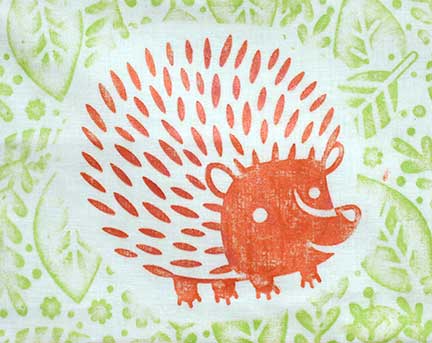 Here is our friendly hedgehog that I've fondly named Henry…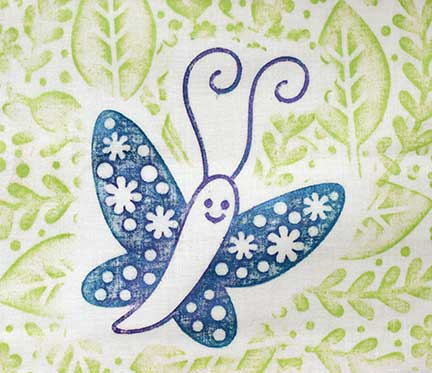 … and his friend, Bonita, a very happy butterfly. I wanted our animals to feel right at home, so I added green rubbings using the background plate. To make a background, I simply placed the "leaves" plate under the fabric and I started rubbing a small distance away from each of the animals. I kept moving the rubbing plate and adding leaves until the fabric was filled up.
I used this idea to make a quick valence for a window, but there are lots of possibilities. Can't you see these darling animals in quilt blocks and pillows? Yes, I thought so too! I hope you enjoy making special gifts (and fabulous memories) for the little people in your life with our Forest Friends plates and stencils. And I'll go borrow some grand kids from my friends – there's no shortage of kids that love to be surrounded with friendly faces.
Our Forest Friends Rubbing Plates are available now, and the stencils will be here shortly. Ask for them at your favorite retailer or shop in our Online Store.