At the beginning of my art residency here in Chapala, I created a stencil from an image of a dancer, and then painted her up using my extreme stenciling technique.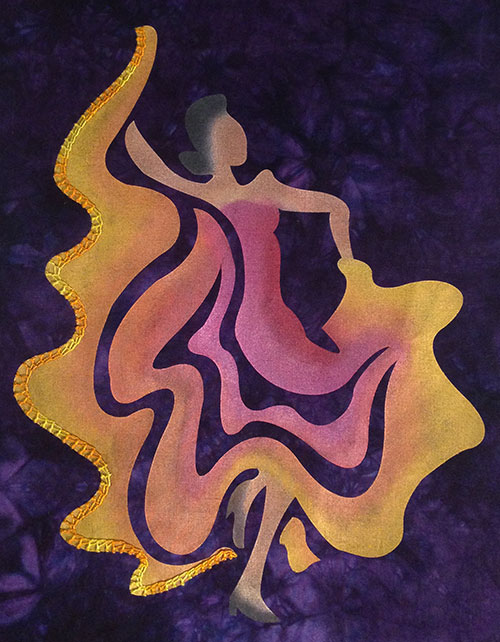 She was quite lovely in the shimmering iridescent Paintstik colors, but I wanted to give her dress a bit of pizzazz. So, I dug into my stash of pearl cotton threads from artfabrik.com and proceeded to dress her up.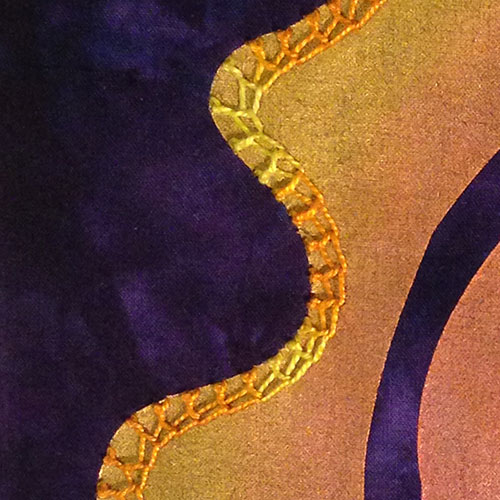 I started with a crested chain stitch using the Sunflowers thread. Nice, but a bit too matchy-matchy. It definitely needed some contrast.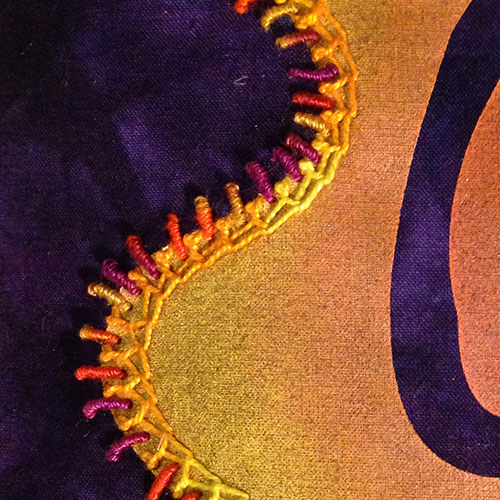 I chose the Spice Road thread and added LOTS of bullion knots along the outside edge. Much better! The skirt appeared to have a ruffle and I was much happier! (And, by the way, I'm getting pretty good at those bullion knots…)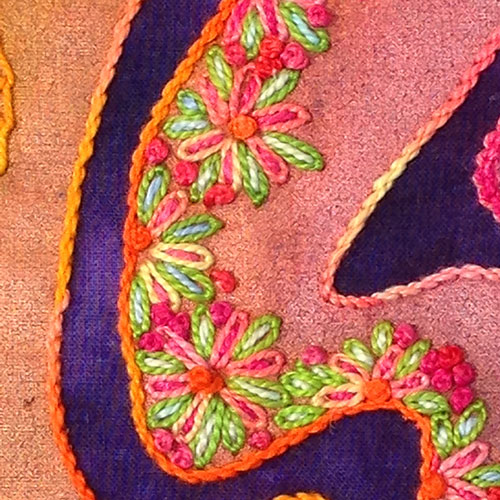 After pondering for a bit, I added a burst of flowers to the second layer of her skirt. I had seen some of these over on Mary Corbet's site at NeedleNThread.com and decided to give them a whirl.
The flowers are made from bunches of lazy-daisy (detached chain) stitches with a straight stitch in the center of each to add some extra color. Plus a few French knots here and there. Not too difficult – and it looks great on my dancer's dress.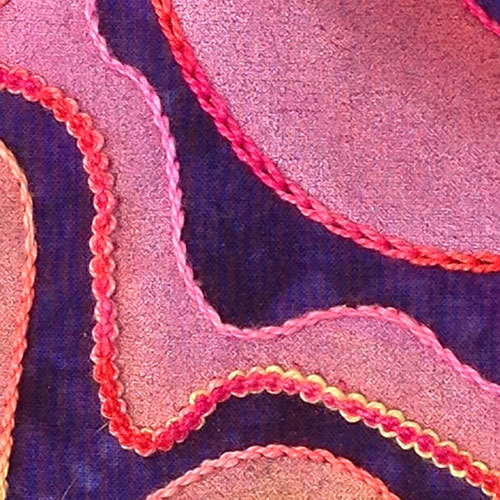 As I got closer to the dancer's body, the stitch areas were getting too small for larger and more complex stitches. I decided to make a line of Palestrina Knots along the 3rd tier of the skirt using Red Hots thread. It was a bit plain, so I laced the knots with Tangerine pearl cotton. I like the way the lacing frames the knots!
Finally, I used a small chain stitch in Red Hots on the left side of the dancer's body. It is big enough to have a bit of texture, but not so busy that it is distracting.
I finished off the dress with simple lines of stem stitch. There comes a time when enough is enough.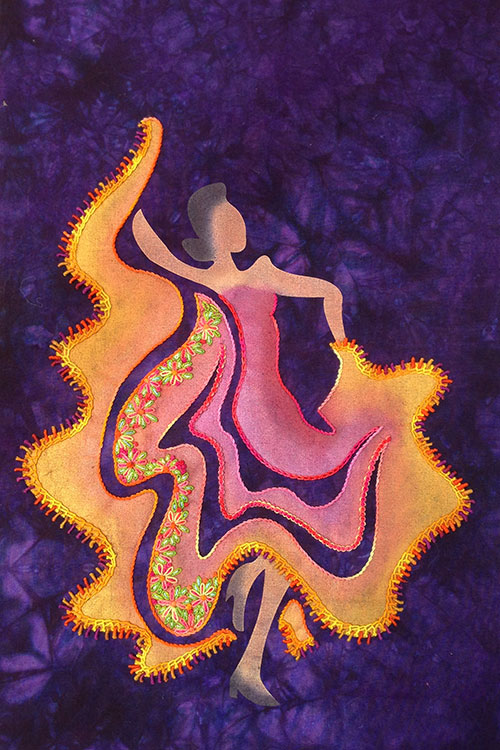 And here she is all dressed up! Isn't she beautiful?
I considered stitching around her arms and legs, but I've decided to add that stitching when I turn this into a quilt. I'm at the point where the little voice in my head is whispering, "stop." So I think I will do exactly that.
Resources:
All of the thread I used for this project is #8 Pearl Cotton hand dyed by Laura Wasilowski at Artfabrik.com. I used the following colors: Spice Road, Sunflowers, Oranges, Tangerine, Peas in a Pod, Ornamental Grasses, Red Hots and Petunias.
The flowers in my dancer's skirt were inspired by this post from Mary Corbet's blog. Mary has a new eBook coming soon that I can't wait to get my hands on. In it, she uses bunches of stitch combinations to create an alphabet. I'm not terribly interested in stitching letters, but I am oh, so anxious to see all of the stitch combinations! Mary… we're waiting… !
Your Turn:
Have you added stitching to your painted fabric? Do you have a question — or a favorite source for beautiful thread?
Leave a comment below or over on our Facebook page. I would love to hear your thoughts.