by Susan Stein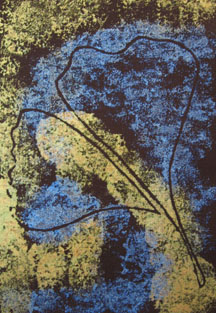 Here's a great use for the foam trays that regularly make their way into our kitchens. Use stencils to turn them into printing plates. With a few colors of thick liquid paint, you can make beautiful prints on fabric.
Supplies:
~ Stencils [Cedar Canyon Textiles] ~ Foam meat tray or to-go box with unmarked surface
~ Craft knife or scissors
~ Ballpoint pen
~ Fabric
~ Paint with body like Lumiere™ or Neopaque™ by Jacquard
~ Sponges or sponge brushes
~ Old terry towel, rubber carpet pad, or newspaper to provide a cushion for printing
~ Plastic cover for printing pad
Step 1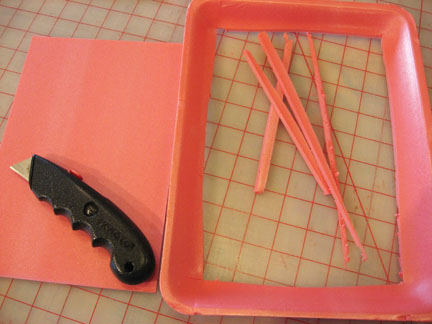 Cut off the edges of the foam tray so you have a flat surface.  Tape the stencil to the foam (or spray the back of the stencil with adhesive spray and adhere the stencil to the foam.  Outline the stencil openings with a ballpoint pen, making the lines about 1/8" deep into the foam.
Step 2
Place a printing pad on your work surface and cover it with plastic. Tape the fabric to the plastic covering your printing pad so you can pull the print easily without smearing it.  If you are working on newspaper instead of a printing pad, you can just tape the fabric to the paper.
Step 3
Sponge paint onto the foam, using as many colors as you like.  Work quickly so the paint stays wet and make sure the layer of paint is consistently thin so it doesn't fill in the lines when you print.
Step 4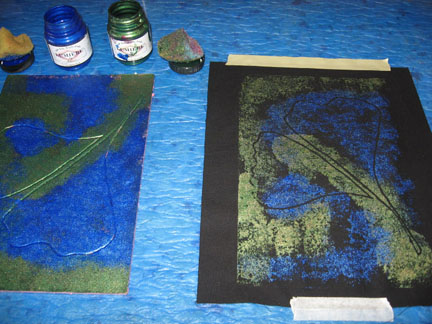 Turn the foam face down on the fabric and rub over the back with your hand until the paint transfers to the fabric.  Pull the foam off carefully and let the paint dry.  Heat set the painted fabric with an iron.
The first print will be light because the foam needs to be coated a couple of times before it will release the paint to the fabric.  Have several pieces of fabric ready to print and pick the best one for your project.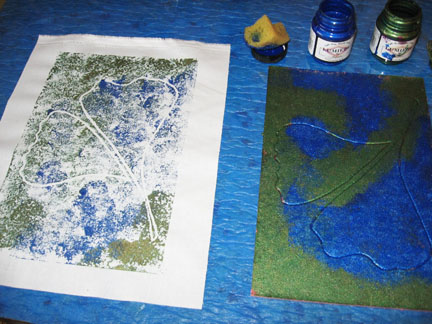 Here is the same print on white fabric.