I got the first set of plates from our new Happy Holidays set at the end of last week, so I had a good excuse to push all the paperwork aside and pull out my paints. (I love days when I have a good excuse to ignore all that "office" work!) I remembered to grab some fabric as I was leaving home, so I was ready to give the new plates a good workout.
When I get a new set of plates, the first thing I do is to simply paint each plate with a single color. This helps me figure out where the challenges are with each design. With the holidays plates, I immediately discovered that I needed to peel open the side of my paintstiks rather than the end because of the large open spaces in the design.  (I really like those open spaces, but they force me to change my painting ways so I don't keep running off the side of a design…)
Fixing the "oops"
Since I'm sure that I'm not the only person that runs off the side of a design, I thought I should share a method for fixing the "oops" factor (or at least making it less obvious!) Here's the plan: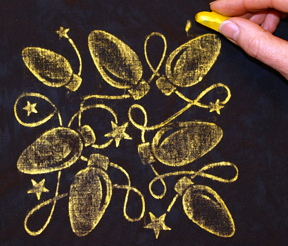 Here's a single color rubbing of the holiday lights with an "oops" – you can see where I went off the edge of the design on the top right. Now that's more of a "design element" than I would be happy with, so I'll use a piece of masking tape to see if I can pick up the paint.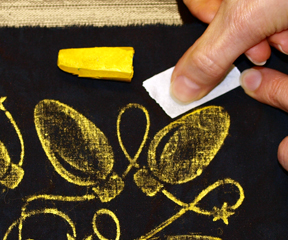 I put a piece of masking tape over the excess paint and rubbed it with my fingernail to really grab the paint.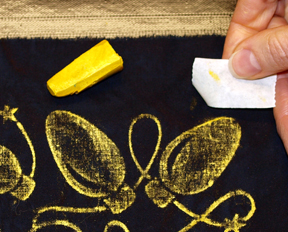 When I peeled up the masking tape, most of the paint came with it! I repeated the process and now my "oops" is barely visible and certainly not distracting.
Working with multiple colors
I liked the string of lights, but I wanted more than one color. Of course! I know, I'm chronically allergic to using a single color of paint, so bear with me.
When I have a design like the lights, I find it almost impossible to paint the lights and then paint the string a different color. So I start by painting the entire design using the color I want for the string and then going back to fill in the other colors. If I don't lay down a heavy coat of paint with the 1st pass, it's pretty easy to cover it up with a 2nd pass.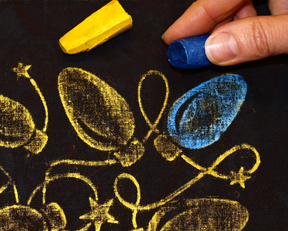 Here's the design with one bulb painted blue. I still find it easier to use the side of the paint rather than the end to get nice, even coverage.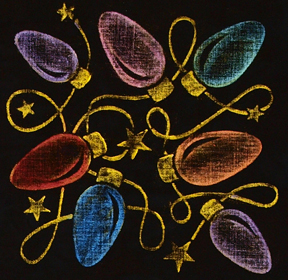 And here's an image with lots of colors.
Enjoy your paints!  ~Shelly