by Shelly Stokes, Creative Mentor, Cedar Canyon Textiles

It has been a few weeks since we last talked about finding inspiration or "wooing our muse." Today, I want to continue this series with some thoughts on one really important strategy that is easy to skip past when we want to jump into a new project.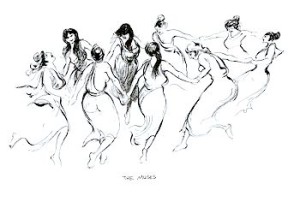 As you well know, our muse can be one fickle lady, showing up as she pleases and then dashing off when we need her most. Our job is to build practices into our lives and our creative work that encourage and allow our muse to come calling.
Wait a minute! ALLOW our muse to visit? Yes, you read that correctly. Whether we intend it or not, some of our habits actually create a barrier to inspiration, we actually throw up road blocks between ourselves and our muse. That brings us to today's strategy for finding inspiration: Learning Your Craft.
Let's face the facts. Many aspects of creative work require learning the craft before getting to the "creative" part. There are technical elements to every technique that you need to learn to be successful, whether you are decorating a cake, taking a photograph or making a quilt.
For example, if you want to make quilts, you must learn how to stitch a quarter-inch seam and cut pieces of fabric accurately. If you want to dye fabric, you must learn how the chemical process works and how to mix colors to get the shades you want.
By taking the time to learn the "how to" skills before you tackle an important project, you leave a lot more room for inspiration to appear as you work. Your muse may happily light upon your shoulder and whisper sweet inspirations in your ear as things are going smoothly, but she is highly unlikely to put in an appearance when things go wrong for lack of practice.
In case you are feeling a bit overwhelmed, I want to be clear about one thing here. It is most definitely NOT important to "learn the craft" for each and every creative opportunity that comes your way. I am perfectly happy having rudimentary cake-decorating skills. I don't do it often, and it's really not my thing.
But once you decide that you want to use a particular creative technique in your work, it is important to make time to learn the basic skills. Go to a class, read a good book and take time to practice on your own. You will be happier, your projects will go more smoothly, and your muse will have a much easier time popping in for a visit.
If you missed any of the earlier installments in this series, you can read them here:
How Do You Woo Your Muse?
What's your experience with your muse? When does she show up? Do you have strategies for inviting her for a visit? Leave a comment below. I'd love to hear your ideas – and so would your friends in the community.