A few weeks ago, I posted several articles on finding inspiration, or "wooing our muse." You can read the earlier posts here:
Finding Inspiration 1: Examine the Best Examples
Finding Inspiration 2: Explore Other Techniques
As you know, ideas come at the craziest times (like the middle of the night) and often seem to disappear completely when we really want them to show up. The trick is to build simple practices into our lives that invite our muse to show up on a more regular basis.
This week, let's take a look at the value of connecting with like-minded creative "buddies."
I have belonged to two types of groups, one large and one small. Large groups, like local guilds, provide a great way to meet new people who share your interests. If you look around, you'll find local guilds for quilters, sewers, knitters, water-color artists, metal workers, potters, and just about anything else you can imagine.
Guilds also invite guest speakers to meetings, organize classes, do community service projects and so on. They are a great place to connect with others.
My personal preference is to belong to a smaller, more intimate group. I belong to a group called the DIVAS (which stands for Designing Innovative Visual Arts Sisterhood in case you were wondering).
When meeting day rolls around, I often have a nagging tug-of-war going on in my brain. One side says "You've cannot do that – you have got deadlines to meet" while the other side says "Screw the deadlines – I want to go play with my friends." Sound familiar?
Usually, time with my friends trumps the deadlines. After all, I don't think I'll be lying on my deathbed wishing I had written one more newsletter or made one more sale. But I might very well wish I had been less tied to my work and spent more time enjoying the marvelous women in my life.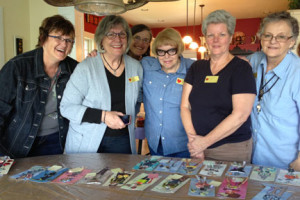 Most of our meetings are pretty casual, but we try to schedule "play days" several times a year to try something new. One of our member recently had a friend visiting who is a mixed-media artist. Lucky for us, Karen agreed to teach a workshop for us and we had the opportunity to spend the day making high-fashion paper dolls with an attitude!
We made these paper dolls by stamping "bodies" on card stock using some of Karen's stamps, then cutting out heads and legs from fashion magazines. It was great fun finding embellishments for these ladies. And most important, we had tons of fun.
I don't know if I will ever sit down to make more paper dolls in the future, but this 'mini workshop' with my friends was good for all of us. We all had to step out of our creative comfort zone, do something wild and crazy, and get past our limiting ideas about which heads, bodies, and legs should go together.
Truly, it was a fun way to "invite our muse" to come and play with us. And yes, she showed up with flying colors.
Do you belong to a guild or small creative group? Do you have special activities that help you "woo your muse" as a group? Leave a comment below. I would love to hear what you are up to.