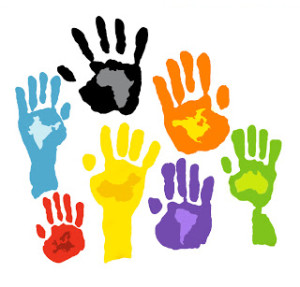 In last week's post, we talked about finding creative inspiration – or "wooing our muse" – with our EYES by looking at the best examples we can find. This week, I want to talk about finding inspiration with our HANDS.
In a recent blog post, poet Kelly Belmonte at All Nine Muses encouraged writers to read widely in other subjects, because "the more material you have composting in your brain, the more you have to draw on when inspiration is needed for that special project."
For those of us who create with our hands, the analogous exercise is to explore other techniques. If you find yourself always piecing fabric, learn to appliqué. If you love one kind of fabric paint, experiment with another.
The key word here is EXPERIMENT.
I am not suggesting that you go whole hog and wildly embrace each and every new technique that catches your eye. Nor am I suggesting that you rush out and buy the entire collection of some new product just because you want to give it a go. The point here is to actively seek out opportunities to try something new and different, whether it is something you have never done before or a new way to use some of your favorite art supplies.
Here's an example. I recently attended the Minnesota Quilt Show and had 2-1/2 days at the show with absolutely no agenda. Now, even I can't spend 2-1/2 entire days just looking at a show, so I checked out the open classes and signed up for a beginning hand appliqué class.
In all my years of quilting, I had never tackled hand appliqué. To be honest, I always considered appliqué as the "A" word. How silly is that? Here was my opportunity to learn something totally new for the price of a class and a $12 kit. Sweet. And you know what? It was fun! I'm not planning to do a lot of appliqué – I can paint a whole lot faster – but I'm no longer intimidated. And should I need to add a bit of needle-turn appliqué to a project, I know how.
Four Things to Consider
Exploring new techniques can be tons of fun. Especially if you do your experiments with a friend. Grab one (or more) of your creative buddies and make it a Play Day.
Experimenting automatically puts us in a totally different mindset. It puts us back in "learning mode." There is great value in stepping away from our comfort zone (doing things we know how to do) and inviting our inner child to come out and play.
It doesn't have to cost an arm and a leg. In most cases, we can play around with just one or two of something, borrow from a friend, or pool a few dollars with our friends to get enough supplies to get started. There's plenty of time for serious shopping later.
Now here's the single most important thing to keep in mind. If you take nothing else away from this post, remember that…
Experiments are not a commitment. Deciding to "try it out" does not mean you are committing to a lifetime with a technique or the supplies that go with it.
If you love the experience you have with the new tools and technique, that's fantastic! If not, you can tuck your new knowledge into a neat little holding spot in your brain. It will be there for you if you ever find yourself needing "just the right little something" for a special project.
What do you love about trying new techniques?
Do you make a practice of trying new things? How do you do that? I'd love to hear your thoughts on taking classes, playing with friends, and any insights you gain when you let your creative little girl come out to play.