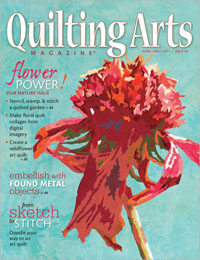 How appropriate! I return from my trip to Chapala, Mexico with a camera card full of flower and foliage photos to find the Flower Power issue of Quilting Arts magazine in my mailbox. Looks like I'm ready to go! There are some really great ideas in this issue to go along with my fresh stock of photos.
And, just before I left on my trip, I received a shipment of samples from Colourcraft, a fiber art company in the UK, with a bunch of products to test. As I opened the box, I wasn't sure if I felt like a kid in a candy store or if I had been magically transported back to Christmas morning. I need to block out some serious play time! Looks like it could be an interesting weekend — in spite of all the snow that got dumped on our area this week.
Here are a few more flower photos from my vacation in Chapala. Perhaps you can join me in finding inspiration for a Flower Power quilt!